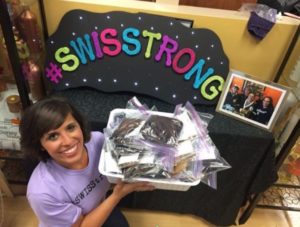 Dorsey School of Beauty in Lansing, in partnership with Fox 47, the American Cancer Society and Pantene Beautiful Lengths held a Haircut and Cancer Awareness event on Thursday August 27th.  The event was in memory of Steve Swistak, the brother of Sarah Swistak, Anchor of Fox 47 News in Lansing.  Steve passed away earlier this year at the age of 33 after his second battle with esophageal cancer.  Losing his hair was very difficult for Steve and while Sarah couldn't help by giving him his hair back, she wanted to do something to give back to others battling cancer.  In putting out the challenge, Sarah called on her viewers to see if they were #SWISStrong.
Sarah, along with 60 others, donated at least 8 inches of hair each that will be used to make wigs for cancer patients.  For those who didn't wish to donate hair, Dorsey School of Beauty offered haircuts, trims, styles and make-up to patrons in exchange for a donation to the American Cancer Society.  Attendees were also able to obtain information from the American Cancer Society, take part in drawings for free prizes, and enjoy free food and drink.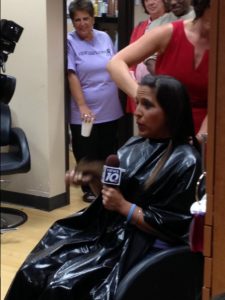 The event was a tremendous success on every level.  Here are some of the remarkable results:
Over 110 members of the local community attended the event at Dorsey School of Beauty and contributed to this great cause!
Over 600 inches of hair was donated to Pantene Beautiful Lengths from the event!
Over $1000 was raised that will be donated to the American Cancer Society!
Dorsey School of Beauty students and staff provided 101 haircuts, 11 styles, and 8 make-up applications at the event!
To learn more about the event, you can check out the entire story on the Fox 47 page.  You can also read more on Sarah Swistak, Fox 47 News Anchor's Facebook page.
We want everyone who came out to the event to support this great cause along with our partners at Fox 47 News, the American Cancer Society, and Pantene Beautiful Lengths.
About Dorsey School of Beauty
Located in south Lansing, Dorsey School of Beauty offers a variety of career training programs such as Cosmetology, Manicuring, and Cosmetology Instructor.  The Dorsey School of Beauty Lansing Campus is located at 6250 S. Cedar Street, next to the Mancinos and behind Applebees.  The Salon at Dorsey School of Beauty is open to the public and offers a variety of hair, nail, make-up, and skin care services to their patrons.  If you're interested in learning more about the Dorsey Schools Lansing campus, you can give them a call directly at 888-422-1188 or click here to contact us!  If you'd like to contact the Dorsey School of Beauty salon, you can call them directly at (517) 272-4826.
For more information about our graduation rates, the median debt of students who have completed the program, and other important information, please visit www.dorsey.edu/disclosures.