The matchup for Super Bowl LI is set! It's the Patriots vs Falcons! As suspense grows so does our appetite for the commercial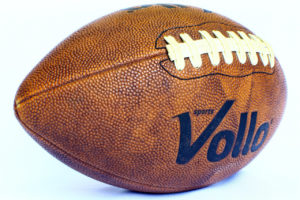 s that many will tune in to watch, and of course, all of the great food being served at Super Bowl parties from coast to coast!  Well, never fear!
5 Easy Super Bowl Recipes from Dorsey Culinary Academy

Dorsey Culinary Academy is here and we reached out to our team to collect some of their favorites that may be appearing at their Super Bowl parties on Sunday February 5th and why they love these dishes.  Take a look!
Super Bowl Chili Bowls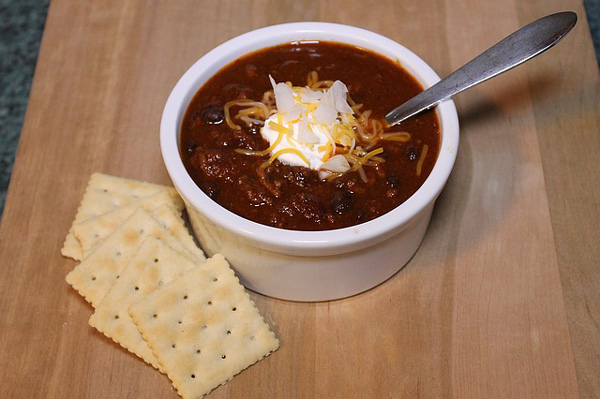 Serves 12
Ingredients:
1 sheet of puff pastry dough cut into twelve equal squares
24 ounces chili of your choice
1 pound of shredded Jack cheese
Directions:
Lightly stretch out each square of puff dough and place evenly into muffin tin that has been lightly sprayed with oil.
Spoon 2oz chili into each pastry square, top with 1 oz shredded Jack cheese
Bake at 350 for fifteen minutes until cheese is melted.
"I like this recipe because it is a meal or app in a self-serving cup. It's easy to make and is not too time consuming. The best part of this recipe is you can be creative and make your own chili recipe, which makes it your own creation."
"Lil Smokey" Corndogs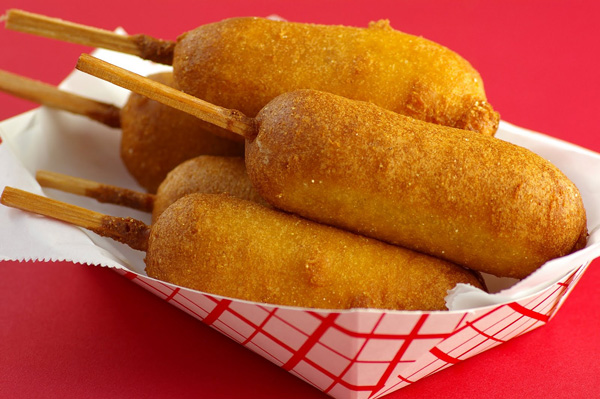 Image Courtesy of FunCheap
Courtesy of Chris Bonapace, Student Success Manager
Yields 70 mini corndogs
Ingredients:
2 packages of cocktail link (approx. 70)
1 cup yellow cornmeal
1 cup all-purpose flour
1.5 teaspoons of kosher salt
1 teaspoon baking powder
¼ teaspoon baking soda
1 teaspoon cayenne pepper
2 jalapenos (fine brunoise)
8.5 oz creamed corn
1/3 cup grated onion
1 ½ cup buttermilk
2 oz cornstarch
1 box of toothpicks (plain, no plastic)
Directions:
Heat oil in deep fryer or pot to 375 degrees.
In a mixing bowl, combine dry ingredients (cornmeal, flour, salt, baking powder, baking soda, and cayenne)
In a separate mixing bowl combine the wet ingredients (Jalapenos, creamed corn, grated onion, buttermilk)
When oil is up to temperature, add dry ingredients to wet ingredients and stir/fold to combine. DO NOT OVERMIX.
Let mixture rest for 10 minutes, DO NOT SKIP
While mixture is resting, skewer links with toothpick and lightly dredge in flour. Shake off excess and set aside.
Scoop batter in a deep vessel (I like a coffee cup) and quickly dip and spin the link with cornstarch in batter
"Swim" your mini corndog in the oil for 5 seconds before completely dropping it and let it cook in the oil for 3-4 minutes, or until it is golden brown.
Remove from oil to cooling rack
Serve with yellow mustard
"I like this recipe because it is a cool modification to the traditional corndog recipe. If you use smoked links, the smoky, salty, spicy combination will be a hit at your party."
Spicy Sausage Dip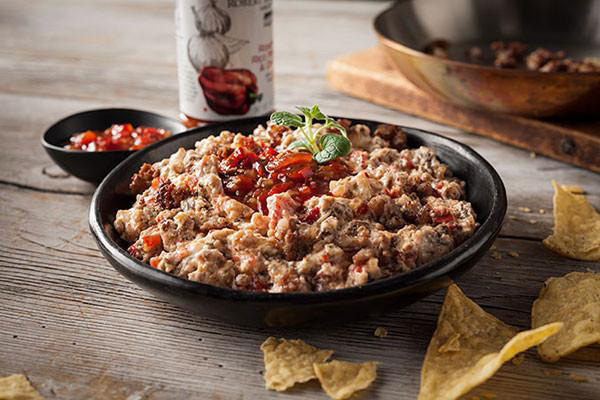 Image Courtesy of Robert Rothschild 
Yields: 20-30 servings
Ingredients:
1 (10-14oz) Sausage Roll Mild Flavor
1 (10-14oz) Sausage Roll Spicy Flavor
2 (8oz) packages of cream cheese
1 (16oz) jar of Medium Salsa
4 Green Onions, chopped fine
1 Green Bell Pepper, chopped fine
1 (4oz) container of Sour Cream
Directions:
Place all ingredients in a crock pot, cook ingredients until cream cheese has completely melted.
Consistently stir until all ingredients are mixed well and dip is hot. Serve with tortilla chips
"This is my favorite recipe because it taste great and it is very easy to make and doesn't cost a lot of money to make. You can't get any easier than to throw everything goes in the crock pot until it's done. 'Set it and forget it'."
Stuffed Bacon wrapped Jalapeno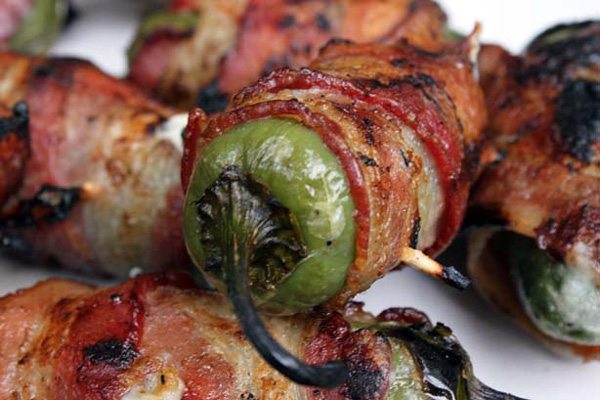 Image Courtesy of East Side Food Bites 
Courtesy of Chef McGiness
Ingredients:
1/2 cup cream cheese
1/2 cup shredded sharp Cheddar cheese
1/4 cup shredded smoked gouda cheese
2 tablespoon sliced scallions
1/4 cup cooked shredded chicken
1 tsp fresh lime juice
1 tablespoon minced red pepper
12 jalapeno peppers, halved lengthwise, seeds and membranes removed
12 to 16 slices bacon
Directions:
Mix the first seven ingredients.
Stuffed the the jalapeño. Good amount portions.
Wrapped with bacon and lined them up on a sheet tray.
Cook at 375 until bacon is crisped.
Serve them on platter.
"I love this recipe.  I make it every year for Super Bowl. It's quick and goes great with ice cold Michigan beer."
Chicken Curry Wings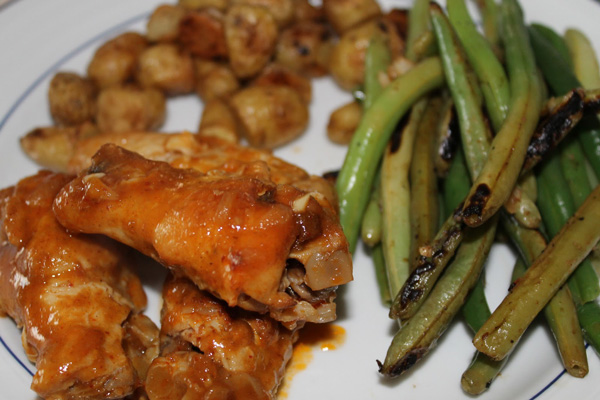 Image Courtesy of Life on Food 
Courtesy of Chef Piazza (Adapted from On Cooking, 5th edition, p.434)
Yields:  25, 5 per serving, 5 servings total
Ingredients:
One Small onion diced (8 ounces)
2 teaspoons of crushed garlic
1 fluid ounce of clarified butter
Wet masala
2 ounces of fresh ginger
1 ½ teaspoons of ground turmeric
1 ½ teaspoons of whole coriander
1 teaspoon of ground cumin
1 teaspoon of cayenne pepper
½ teaspoon of ground fenugreek
20 fluid ounces of coconut milk
50 Chicken Wings (Roasted on a 350 degree oven for 30 minutes)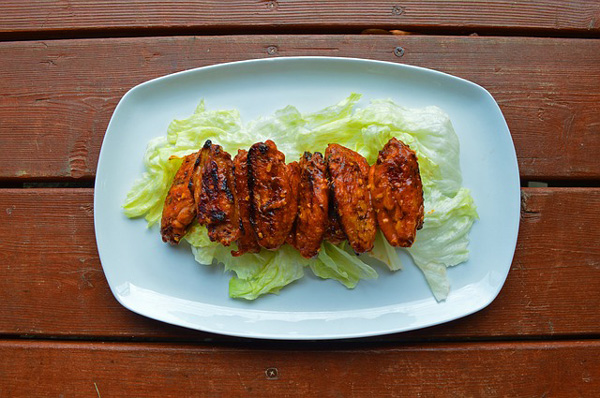 1 teaspoon of salt
3 green chile peppers (split lengthwise)
1 fluid ounce of fresh lemon juice
Directions:
Stir-fry the onions and garlic in the butter until the onions are golden brown.
To make the wet masala, mix the ginger, turmeric, coriander, cumin, cayenne pepper and fenugreek; add just enough of the coconut milk to form a paste.
Add the wet masala to the onions and stir-fry for 8 minutes.
Add the remaining coconut milk, salt and chiles. Bring to a boil, cover and reduce to a simmer.  Simmer approximately 45 minutes.
Just before service, stir in the lemon juice and adjust the seasonings. Add the cooked chicken wings, turning them frequently, for 5 minutes.  Serve with saffron rice and a savory mango chutney.
Do you love to cook for parties and gatherings?  Are you the "go to" person among your friends and family when it comes to cooking?  If so, training for a career in the Culinary Arts may be for you!  The Culinary Arts program at Dorsey Schools blends classroom instruction with hands-on practice in the kitchens on campus to provide students with a balanced learning experience.  In addition, during the final module of training, students will participate in an externship where they will have the opportunity to apply the knowledge and skills they have learned throughout the program in an actual occupational setting.  The Culinary Arts program at Dorsey Schools exposes students to topics such as Butchering, Baking & Pastry, Nutrition & Healthy Cooking, Menu Planning, Sanitation, Professionalism, Kitchen Management and more!
The Culinary Arts program at Dorsey Schools is programmatically accredited by The Accrediting Commission of the American Culinary Federation Education Foundation (ACFEF). Each graduate of the Culinary Arts program at Dorsey Schools is eligible to become an ACF certified culinarian with documentation of both membership in the ACF and one year of in-field working experience.
If you'd like to learn more about the Culinary Arts program at Dorsey Schools, give us a call at 888-422-1188 or you can request info online.
Reviewed and edited 12/6/17