Campus Locations -
Dearborn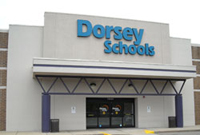 DEARBORN CAMPUS
Contact Information:
Phone: 313-982-3730
Fax: 313-982-3749
Email: AdminDE@Dorsey.edu
Address:
18660 Ford Road
Detroit, Michigan 48228
Get Directions to Dearborn Campus
OPEN HOUSE DATES AND TIMES
March 28, 2015 - 10am - 2pm
The Dearborn Michigan Campus of Dorsey Schools is located near the Southfield Freeway, off of Ford Road (adjacent to Planet Fitness).
The career training programs offered at the Dearborn Campus include:
The curriculum for the medical training programs use the DEAN-VAUGN audio/visual system for training in Medical Terminology, Anatomy, and Physiology.
All programs follow a conventional lecture study environment along with hands-on training. The Patient Care Technician Program and Medical Assistant Program provide training for clinical procedures in Dorsey's medical laboratories, which are also conveniently located at the Dearborn Michigan Campus. In the Medical Administration and Billing Program, students will receive hands-on training in advanced medical coding systems as they learn professional coding procedures which graduates will be expected to execute if they choose to pursue a career in this branch of the medical field. Select programs offered at the Dorsey Schools' Dearborn Campus prepare students for a national certification exam, should they wish to pursue certification following their graduation. If a career in any of these medical fields seems like a career path you wish to pursue, contact our Admissions team to begin your medical training today.