It's that time of year again…  The annual Woodward Dream Cruise is back!  Classic car enthusiasts, rev your engines!  Thousands are preparing to cruise up and down iconic Woodward Avenue on August 20th.  All of us here at Dorsey Schools love happenings throughout Michigan.  This event is extra special not only because of its history, but because of all the great food that can be found along the cruise route!  Our team has put together a list of five places up and down Woodward that you just may want to consider visiting either during the cruise, or heck, any time for that matter!  It's important to note that there are no shortage of food options along Woodward, these are just a few of the many options available.
Duggan's Irish Pub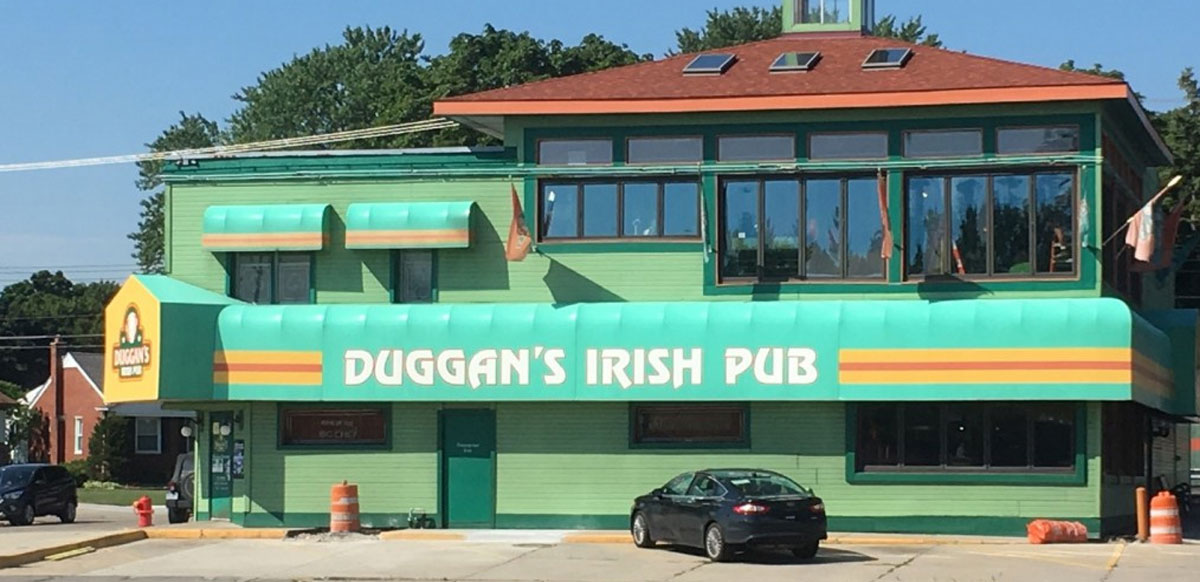 When it comes to Irish Pubs, Duggan's is pretty darn great!  Located on Woodward Avenue in the city of Royal Oak, Duggan's is also a proud Restaurant Sponsor for the Woodward Dream Cruise 2016.  Each year it proves to be a hot spot for cruise goers and has also been the site of live shots from WXYZ Channel 7, a media sponsor for the Dream Cruise.  In addition to traditional pub fare such as burgers, sandwiches, and a variety of appetizers, Duggan's also has several salads and entrees to choose from such as the Susie Q Fish and Chips as well as the Five Pound Wet Burrito!  Our team was mesmerized by the homemade Mac & Cheese on the menu as well as The Famous Big Chief Double Decker.  In fact, Duggan's says their Big Chief Double Decker is "Almost World Famous."  That said, it's definitely worth checking out, right?
Vinsetta Garage
Vinsetta Garage is located on Woodward in the city of Berkley.  For years, it has been an iconic hot spot on the restaurant scene in Metro Detroit.    It could be because this former auto garage has been transformed into a classic diner serving up great eats that are sure to get your motor running.  Vinsetta Garage screams nostalgia when it comes to classic cars and for many, it's a popular "go-to" place during the Woodward Dream Cruise.  Part of the charm at Vinsetta Garage not only rests with the décor but it's also the Michigan-made ingredients in several of their dishes.  For example, if you check out their desserts menu, you can choose from their Fried Pie (with homemade Michigan cherry jam included).  They also have Faygo Ice Cream (who couldn't go for some classic Rock N' Rye).  You may also opt for a Michigan Pecan Tart made with doodles sugar bush (maple syrup made right here in Michigan!).  The burgers at Vinsetta Garage are also not to be missed.  Some of their classics include The Vinsetta Burger, The 3AM, and The Macon Bacon.
Redcoat Tavern
Also located on Woodward Avenue in Royal Oak is another popular local restaurant, Redcoat Tavern.  A staple in the Metro area for many years, Redcoat is perhaps best known for their burgers.  We can't forget about the sides as well.  Patrons of Redcoat have often raved about their fries, onion rings, and even their fried mushrooms.  Since 1972, Redcoat has been delighting the taste buds of Detroiters and this Veteran British-American themed pub is sure to have a dish for everyone, whether you're in the mood for a great burger, a salad, or an entrée.  If you make the trip over to Redcoat, our team recommends the Original Redcoat Special Hamburger.  It's made from a half pound of hand-selected freshly ground choice beef and it's prepared continental style with a variety of cheese, veggies, and types of buns to choose from.  One of the things patrons like best about Redcoat is the consistency of the food.  After all, they've been serving up great burgers for over 40 years (and many more to come, we're sure).
Como's
Como's is located on Woodward Avenue in the funky city of Ferndale and has been serving up tasty eats to Metro Detroiters since 1961.  It's no surprise that this Italian restaurant is best known for its pizza.  Patrons can choose from either classic round of deep dish.  The menu isn't limited to pizza though.  Como's offers many options including pastas, salads, sandwiches, and various house specialties.  One of the other great things about Como's during this time of year is the fact that you can either dine inside or out on their patio.  So, during the Woodward Dream Cruise, if you stop to grab a bite to eat at Como's you may choose to relax inside or enjoy the Michigan summer outside.  Como's is open late (until 2AM Sunday through Thursday and until 4AM on Friday and Saturday).  So the next time you have a late night pizza craving, they have you covered!
Crispelli's
Up to this point we've featured a number of pub/bar themed restaurants along the Woodward Dream Cruise route.  On cruise day though, if you're in the mood for change of scenery, you should consider Crispelli's.  With a focus on "affordable gourmet" Crispelli's Bakery and Pizzeria has a diverse menu.  Their restaurant-like eatery also has plenty of 'old world' feel.  The menu at Crispelli's ranges from homemade pizzas, sandwiches, paninis, soups, salads, and an assortment of baked goods.  Guests may choose to eat in or order their food to go.  The restaurant also has a stone-fired over (where their pizzas are baked) that's visible to patrons and adds to the overall charm of Crispelli's.  If you make the trip, our team recommends the Michigan salad.  On a hot August day, this cool crisp salad may be just what you're looking for to recharge between taking in all of the sights and sounds up and down Woodward Avenue.  Crispelli's is located on Woodward (near the intersection of Woodward and 12 Mile Road) in Berkley.
Again, these are just a few of the many great restaurants you may enjoy.  We wish all those going to this year's Woodward Dream Cruise a great time.  As you're checking out all of the classic cars throughout the day, don't forget to take in some of the great eats our local restaurants have to offer!
If you're interested in learning more about Dorsey Schools, you can visit us online at www.dorsey.edu.  You may also give us a call at 888-422-1188 or request info online.