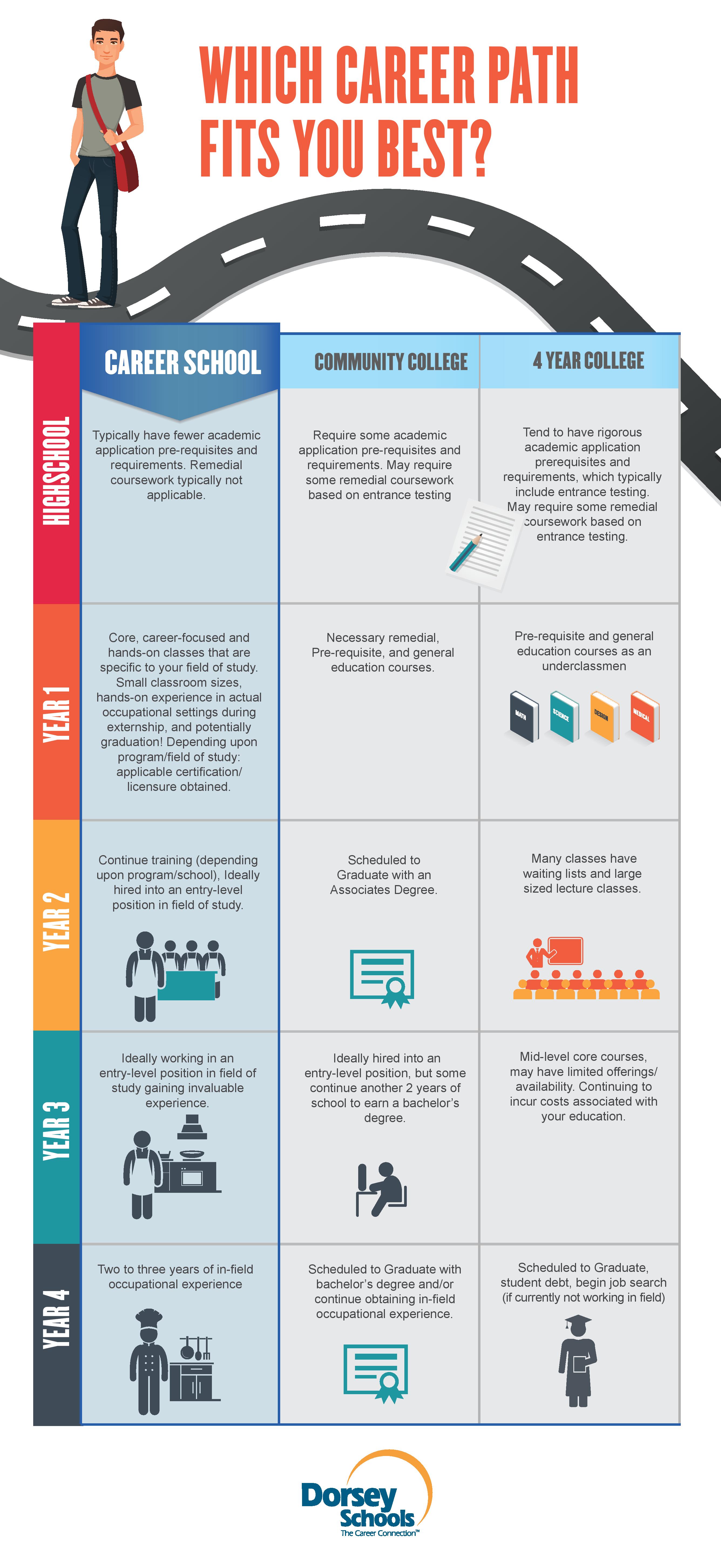 Whether you (or a loved one) are about to graduate from high school this spring, are looking to rejoin the workforce after an extended period of time, or just want a complete change of career path – you are probably looking into furthering your education. There are thousands of schools to choose from, but which type of school is right for you: a four-year school…community college…career school? This is a major decision and a huge investment that you are making for your future, and I'm sure you want to be certain that you choose the right career pathand the best type of school for getting started on your new venture.
Which Career Path Fits You Best?
Whichever type of school you end up choosing to study at will certainly have both benefits and drawbacks, so it is extremely important to consider all of your possible options on the road to continuing your education (and success). When you first think about it, earning a bachelor's degree at a traditional four-year college or university may seem like the ideal situation. A bachelor's degree means more money, right? Not necessarily. And, chances are you don't have tens of thousands of dollars saved up to pay the tuition for a four-year college career. By current trends, tuition costs will only continue to increase in the near future. The average tuition and fees for a private college or university in 2014-2015 was $31,331 per year, while the average public college or university averaged out at $9,139 for in-state students. There are student loans to help you pay for your time studying, but those student loans will linger for a long time (and may take more than a few years to pay back), once you've established yourself in the workforce. It is also important to note that approximately 36% of full-time students complete their bachelor's degree on time in the U.S. This means that more than half of the college students all over the country are studying for a longer period of time – and paying all of the educational costs that come with it. Many college students nowadays also tend to switch majors. This may elongate their college careers, since they need to fulfill a certain amount of credits required for their degree. (This also takes time away from working in the "real world.") Another important factor that may dictate which school to choose is the application process. Four-year schools tend to have very rigorous admission processes that can take months. Many of these schools require an essay, letters of recommendation, and taking the SAT/ACT. This can be a stressful process for some, but planning ahead of time and doing research will make everything much easier.
Community colleges
Community colleges are a much more affordable option for students looking to attend college. CollegeBoard.com reports that the average cost for tuition and fees at a public two-year school costs $3,347 per year. One major benefit of attending community college is that students have a chance to enroll in a wide variety of general education courses to help them decide and explore which major they want to pursue. This is the perfect option for students who want to further their education but do not know exactly what they want to do yet. They won't have to spend thousands of dollars for classes at a university that they may not even need in order to fulfill the requirements of their degree. Community colleges tend to offer a variety of courses, so it is also important for students to take classes that have credits which can be transferred, should they go on to earn their bachelor's degree at a four-year college or university.
Career training schools are designed for students who know what kind of career they want to study for. These schools get their students into the job market as soon as possible, shaving off fewer years that four-year schools require! Career schools have many benefits over other types of schools for several reasons. If students choose to attend a career school, it is vitally important to know which job or career they want to work towards, because most career training programs can be completed in as little as one-to-two years. Classes are extremely specific, and are based around the career of a student's choice. These career-driven schools update and offer programs in some of the fastest growing industries in the U.S. Programs can range from career training in the culinary, medical, hospitality, cosmetology, business and skilled trades industries, to name a few. Most students find that one of the benefits of attending a career school is that they'll never have the "when am I ever going to use this in real life?" moment in class. These programs don't require them to take classes such as Math, English or other general education courses. Students will "learn-by-doing," and have the opportunity for hands-on training. They will learn the skills and knowledge that are necessary for them to be successful in their line of work, instead of only sitting through lectures on the theory of the curriculum. Because career schools tend to have more hands-on training, class sizes are designed to be very small so that each student gets personal one-on-one attention and instruction each and every day from their instructors.
Career schools are the perfect vehicle for people who want to study through a fast-track program that will allow them to join the workforce in a much timelier manner than most other schools. Hands-on training and externships will allow them to experience real-life situations that they will see on the job, which is incredibly beneficial for both the student and their future employer. The skills and knowledge they learn will make them desirable candidates for these highly skilled and highly paid positions in their chosen fields.
Choosing your future is a big task. Planning and paving the way on how you'll get there is even harder. We all have different priorities. Some of us have already been in the workforce, have a family to provide for, are working full or part-time, and some of us are straight out of high school. Whatever the situation, there is a "right" school for you. Your education is what you make of it. Putting in the time is entirely up to you.
If you are the type of person who wants to get to work sooner rather than later, a career school may be your best option. Places like Dorsey Schools offer career training programs, and they are extremely flexible, accommodating your schedule, with quality accredited instructors and small class sizes. Dorsey Schools has been a trusted Michigan career training school for over 80 years, providing programs that prepare students for some of today's most exciting and rewarding job opportunities. Graduates of Dorsey Schools also receive guidance through Dorsey Career Services, which provides valuable employment assistance while serving as an excellent resource for employers in search of highly qualified employment candidates.
For more information about our graduation rates, the median debt of students who completed the programs, and other important information, please visit our website at https://www.dorsey.edu/disclosures.php.