'Tis the season for the holidays and you know what that means: holiday parties with friends, co-workers, and most importantly – family! This means outfits, shoes, nails and an elegant holiday hairstyle. (After all, who doesn't want to look their best during the holidays?) We will dive into holiday hairstyles and trends for the season of 2014 to keep you from saying "bah, humbug" on the day of a holiday party!
Put A Bow On It!
This year, we're seeing a lot of headbands and bows. You can easily place a sparkly headband or fun bow on top of any hairstyle. So, if you're interested in adding a glistening festive touch to your style, headbands may be the way to go. This look is especially stylish for a New Year's Eve party!
Holiday Updos!
Updos are elegant and can be the perfect look for a holiday party ­– especially if you have curly hair. There are plenty of options, such as a messy bun, braided crown, or princess braids. These types of hairstyles are (in most cases) much easier than they look and are a fun and stylish way to play dress up for the holidays. Considering one of these? The key to these structured hairstyles is to break your hair up into sections, rather than wrapping your hair as one section.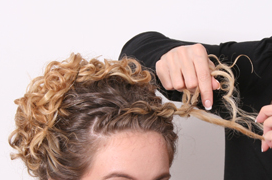 Long Hair: Simple and Beautiful
If you have longer hair, and feel that an updo is too stiff-looking for your style, letting your long hair down is a perfect way to give a youthful and modern feel to your look. A loose ponytail is a great way to tame down your formal dress for either a holiday party or celebration of the start of 2015. A ponytail will give a more casual twist (no pun intended!) to your look. (Something to keep in mind: the ponytail style tends to look best with natural-looking makeup and minimal jewlery.)
The holidays but once a year, so why not spice things up a bit with a fun new hairdo this season?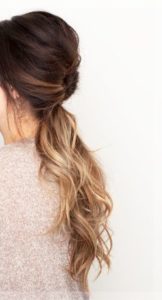 They say there is no place like home for the holidays, but we know that this time-crunched season can get a bit hectic. This season, you can skip the DIY hairstyle and visit a Dorsey School of Beauty salon to help you look your best for any holiday parties (without the hassle of styling yourself). If you want to make an appointment, or to find out more information about the Dorsey School of Beauty salons, click here.
Share with us your favorite hairstyle tutorial videos or blog posts that you plan on using – either  to celebrate the holiday season or for ringing in the New Year!