Once every four years, the best chefs from all around the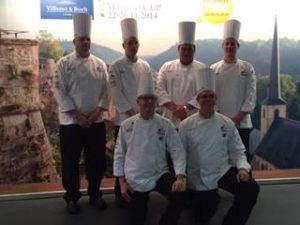 world compete in what is known as the Culinary World Cup! The Culinary World Cup is a five-day event, and is considered to be the second largest cooking competition in the world. The event takes place during the culinary trade exhibition known as Expogast. This year's Culinary World Cup took place at the "Luxexpo" in Luxembourg. Thousands of food enthusiasts made their way to the Culinary World Cup from all over the world to enjoy some of the world's best wine, fine dining and high quality produce.
Dorsey Schools' own Chef John Piazza (Team Manager), Chef Jeremy Abbey and Chef Matt Schellig made the long journey to Luxembourg to compete in the Culinary World Cup as part of a team that represented the state of Michigan. We got a chance to speak with culinary instructor and catering manager of Dorsey Schools, Chef Matt Schellig, about the long preparation and road to get to one of the world's top culinary competitions.
Preparing For the Culinary World Cup

"Just to give you an idea, to put the whole thing together, you're looking at about sixty-plus hours just to put four plates and four appetizers, with six pieces each. We all work on top of that, and have families and other responsibilities as well," said Chef Schellig.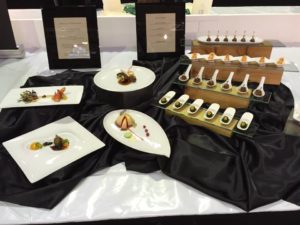 A lot of practice goes into preparing for a competition like the Culinary World Cup, and the Michigan team has done practice runs at least once a month since February. The team participated in several other competitions prior to traveling to Luxembourg, where they received feedback on which areas they could be stronger in. Chef Schellig went on to explain that he went home afterwards to work on those things, along with new ideas, and continually tweaked dishes and made changes that were necessary.
The Judging Criteria
"The judges at the Culinary World Cup are looking for the different techniques used; they are looking for perfect shapes and nice clean lines on the plate.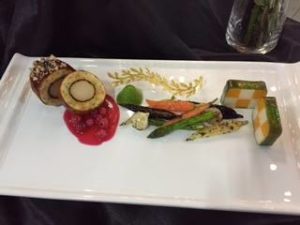 Everything needs to be perfect and pristine." The judges also look at flavor combinations. This is theory-based, because the judges don't actually eat the food. They look to see how it is glazed. Chef Schellig went on to say: "We put aspic on all the dishes; it's a clear flavorless gelatin that gives the dishes a crazy sheen to it. It's as if you took out all the sugar and flavor out of Jell-O; aspic is what's left. No one will actually be eating it."
International Culinary Competition Categories
The Michigan team competed in two culinary art categories which consisted of a four-course meal for one and four appetizers or hors d'oeuvre for six. All chefs from the Michigan team competed individually but everyone worked as a team, bouncing ideas off each other. Or, if someone was particularly good at something, they would help out.
Arriving at Luxembourg
The team landed in Luxembourg in the early morning of November 20th and made a trip down to La Provencale to purchase vegetables and other ingredients that did not make it through customs at the airport. The team ended up cooking with ingredients that included lobster, squab, sausage, roasted lamb loin, and local ingredients.
Culinary World Cup Results
You can check out the results from the Culinary World Cup 2014 by clicking here. All five members of Team Michigan have competed in the Culinary World Cup, and a medal was awarded to each member of the team, including Chef Jeremy Abbey and Chef Matt Schellig (from Dorsey Culinary Academy). Specifically, here's how each of the chefs did in their respective contests: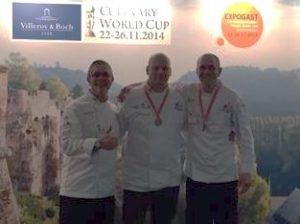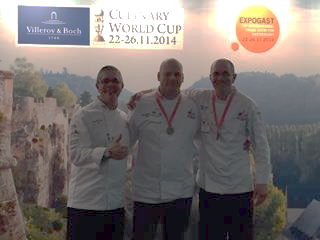 Chef Jeremy Abbey earned a Silver Medal
Chef Matt Schellig earned a Bronze Medal
Chef David Daniot earned a Silver Medal
Chef Tom Giles earned a Bronze Medal, and
Chef Jake Williams earned a Bronze Medal
All of us here in the Michigan area are very proud of the accomplishments and hard work of Team Michigan.
You can also see photos from the event on our Facebook page here: Photo Album
For information about graduation rates, the median debt of students who completed the program, and other information, please visit www.dorsey.edu/disclosures.php.