Welcome to Spotlight!  We will feature Dorsey Schools' students, graduates, staff members, and others here from time to time to highlight their hard work and achievements.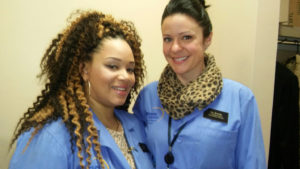 Today we would like to introduce you to two of our Cosmetology instructors from the Dorsey School of Beauty Taylor campus, Ms. Tabitha Starnes and Ms. Brooke McCoy.    Both instructors were recently selected by Salon Centric to attend (with all expenses paid) Matrix Destination Regional Training in Florida from January 23rd-25th.   Salon Centric is one of the largest wholesale salon and beauty supply distributors in the US.  Matrix is the leading American professional brand that empowers hairdressers with professional education.  Matrix encourages you to "dream big, aim higher, and accomplish more to IMAGINE ALL YOU CAN BE."
Dorsey Schools Spotlight:  Kudos to these instructors from Dorsey School of Beauty
About Matrix Destination Regional Training
During the three day event, led by Matrix's award-winning artists, Ms. Tabitha and Ms. Brooke will have access to the following:
Eight exciting classes: three hands-on classes, four look and learn classes, and one business class with Tabatha Coffey.
Attend an inspirational hair show by NAHA award-winning artisits.
Network and celebrate with other stylists and industry professionals.
Feel the passion of the event and the beauty industry as a whole!
For the event, Tabatha Coffey is teaming up with International Celebrity Stylist George Papanikolas to share the liveliest and current hair trends with attendees while providing them with insight on how to replicate celebrity-inspired looks on a daily basis.
In addition to this event, the Dorsey School of Beauty Taylor campus will play host to a Matrix Regional Educator Training event on February 7-8, 2016 in an effort to provide opportunities for faculty and staff to obtain additional knowledge and training that in turn can be passed on to their students.
Congratulations to both Ms. Tabitha and Ms. Brooke, we are very proud of their achievements and are pleased to have them represent Dorsey School of Beauty at this event!
For more information about our graduation rates, the median debt of students who have completed the program, and other important information, please visit www.dorsey.edu/disclosures.
Taylortown School of Beauty operates as Dorsey Schools and/or Dorsey School of Beauty (Taylor campus location).