Summer is heating up and so are summer hair trends! Everyone seems to be more active as the days grow longer and brighter. Summer haircuts need to look good enough to take you from sunlit brunches to warm evenings on the town! What are the hottest trends in summer hair? What is the right color and style for you? Let's check out what the experts have to say! The fashion editors at Elle advise that cool blondes, platinums (white blondes), and defined highlights are among the hottest summer hair color trends.1 They also suggest that peach will be trending for summer. Peach is a color that looks especially striking on "sun-kissed" skin, making it the perfect look for summer.
Summer Hair Trends 2017 – Dorsey School of Beauty
What makes a great color for your skin tone? The best hair color for cool skin tone is a "blue-based" color "like platinum, flaxen, and champagne blond to flatter your ivory complexion," according to InStyle. 2 Warm skin tones are "best against hues of butterscotch, strawberry blond, and honey." By contrast, the best hair color for olive skin is actually a "toasty" hue, such as "chestnut brown, auburn, and cinnamon." And, the best hair color for tan skin, or warm skin tone, in addition to the pastel peach color, might be "tawny blond, golden caramel, or copper."
Waves, braids, and shorter styles are also among the hair trends for summer, according to Elle.3 When you want to make a great impression with little effort, even in the heat and humidity of summer, you cannot beat these simple hairstyles. Summer hair trends are moving toward simplicity and toward keeping your hair off your face so you can feel the cool breeze on your neck. What do you think about these summer hair trends? Do hairstyle trends fascinate you? Do you want to prepare for a new career where you can work with the latest hairstyles in a salon setting?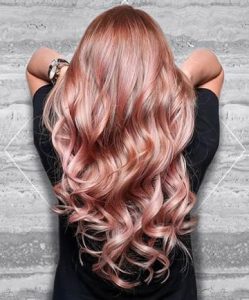 If you are ready to make your mark in the world of summer hair styles, at Dorsey School of Beauty, we are ready to answer your questions about training to become a hair stylist. Learn more about the Dorsey School of Beauty Cosmetology program at https://www.dorsey.edu/school-of-beauty/. Call us at 888-422-1188 to get started on your hair styling training.
Taylortown School of Beauty operates as Dorsey School of Beauty and/or Dorsey Schools (Taylor Campus location).
The Dorsey Schools Taylor, MI campus is accredited by NACCAS and is a Main Campus.
The Dorsey Schools Madison Heights, MI campus is a main campus and the Roseville and Lansing, MI campuses are branches of Madison Heights.
Resources:
1. 6 New Hair Colors to Try This Summer, http://www.elle.com/beauty/hair/tips/g7854/summer-hair-color-trends/?slide=1
2. Find the Best Hair Color for Your Skin Tone, http://www.instyle.com/hair/find-best-hair-color-your-skin-tone#286126
3. 10 Warm Weather Style Ideas Perfect for Summer, http://www.elle.com/beauty/hair/tips/g9013/summer-hairstyles/?slide=1
Reviewed and edited 12/6/17