So you've decided you want to pursue a career as an HVAC Technician.  Congratulations, you've chosen a field that can be both rewarding and challenging!  As you begin preparing for your new career, it's important to know what is expected (and required) in order for you to become an HVAC Technician.  Today, our team breaks down some of the requirements in order to become an HVAC Technician, namely training and licensure.
Requirements to be an HVAC Technician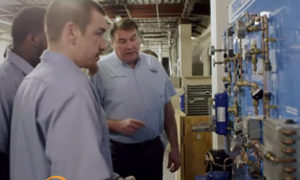 The first step on your journey towards becoming an HVAC Technician is to obtain the necessary HVAC training.  While not necessarily a requirement, many who pursue a career as an HVAC Technician will enroll in a diploma or certificate program to get training in this field.  HVAC Training programs may cover a variety of topics including safety, troubleshooting, maintenance and repair of systems, and environmentally-friendly practices and trends, just to name a few.  Programs may also offer students the opportunity to learn in both a practical and a classroom setting.  This approach can be advantageous as students will learn the "why" behind things but then also have the chance to put their knowledge and skills into practice.  Some may choose to work as an apprentice to obtain the skills and knowledge necessary to work as an HVAC Technician.  Since a job as an HVAC Technician is a very hands-on position, it's important that someone pursues the training that they feel is going to be most beneficial in preparing them for success once they are ready to begin working in the field
HVAC Licensure
Another important step in becoming an HVAC Technician is to pursue any applicable licensures/certifications that are necessary in order to work in the field.  First, it's highly recommended that any candidate check to see if their state requires any specialized licensure in order for them to work in this field – some may, some may not, it just varies.  One thing that is for certain though is the requirements that are set forth by the EPA for HVAC Technicians.  The United States EPA (Environmental Protection Agency) has instituted regulations under Section 608 of the Clean Air Act that gives specific guidance on certification for Technicians.a  The EPA defines a "technician" as someone who may perform any of the following duties:a
The EPA has four types of certification in place for Technicians, namely:a
Type I: Servicing small appliances
Type II: Servicing or disposing of high pressure (or very high pressure) appliances (except small appliances and MVACs)
Type III: Servicing or disposing of low-pressure appliances
Type IV: Servicing all types of equipment
For an HVAC Technician, they will need to become certified in order to obtain employment in the field if they will be handling refrigerants as part of their duties, and the EPA requires that these individuals be certified.a  Many schools/programs have incorporated preparation for the EPA Section 608 Exam(s) in their HVAC training, but it's never a bad idea to look at this as something to consider when looking at their school options.
HVAC Systems Technician Training at Dorsey Schools
Dorsey Schools HVAC Systems Technician diploma program is geared towards allowing students to study maintenance, inspection, troubleshooting and the repair of heating, ventilation, air conditioning and refrigeration equipment to prepare for a new career in this skilled trade. The HVAC Systems Technician program at Dorsey Schools provides the students with an opportunity to learn knowledge and skills through class work, hands-on instruction in the labs on campus, and during an externship during the final module of instruction.  Students will also have the chance to gain knowledge of the practicalities and technicalities of HVAC systems throughout the program.
The curriculum of the HVAC Systems Technician program at Dorsey includes topics and concepts such as basic workplace skills and the fundamentals of HVAC, electricity, refrigeration, and residential and commercial systems. Additionally, blueprinting, system design, and the environmentally-friendly practices of weatherization and sustainability are taught as part of the program. Students will also prepare for and challenge the EPA Section 608 Type 2 Certification exam during their training program, which is generally required to work in the heating, ventilation, and air conditioning industry. Dorsey Schools will cover the cost one time for students in this program to challenge a certification/licensure exam as selected by Dorsey Schools, contingent upon the student meeting Dorsey Schools' exam preparation requirements, which vary by program.  The HVAC Systems Technician program is currently offered at the Dorsey Schools Wayne, MI campus.
To learn more about the HVAC Systems Technician Program at Dorsey Schools, call us at 734-595-1540, or contact us online.
HVAC Systems Technician-Gainful Employment Disclosures
For more information about our graduation rates, the median debt of students who have completed the program, and other important information, please click here
Sources: