Healthy Thanksgiving Side Dish Recipes – Dorsey Schools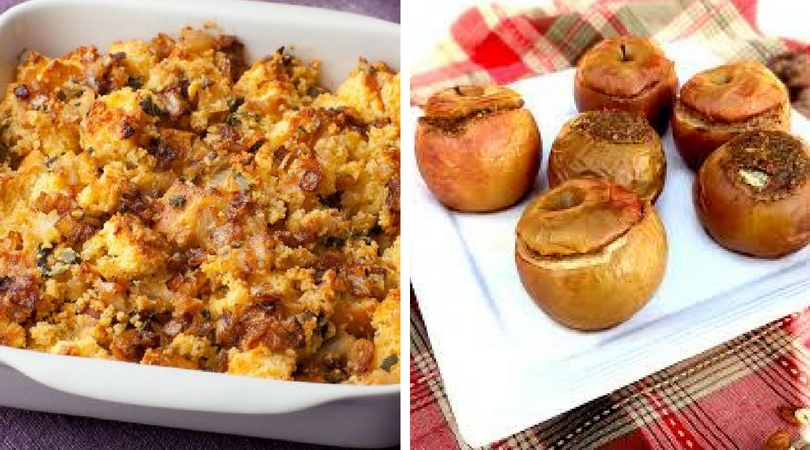 Recipes courtesy of Chef Heather Torrente.
Baked Apples Thanksgiving Recipe
Nutrition Facts:
Serving Size 1 apple Recipe yields 5
Amount per serving
Calories 256
Total Fat 12 g
Total Carbs 41 g
Protein 3g
Ingredients
5 Honeycrisp Apples
2/3 cup Instant Oats
1/8 cup dried Blueberries or naturally dried fruit of your choice
1/2 cup Raw Walnut Halves
2 tbsp Coconut Oil
1/8 cup Honey
1 tbsp Cinnamon
Lemon Wedge
I like to serve the baked apples with a cup of Low Fat Vanilla Greek Yogurt for more protein.
Directions
Preheat oven to 375 F.
Core your apples by using a corer or grapefruit knife. Then, take a grapefruit knife or paring knife and make a larger hole by carving out the sides. Do not go all the way through the apple.
Rub the lemon wedge along the insides of the apples to keep them from browning.
Add all of the ingredients into a bowl and mix together using a spatula. Ensure there is no dry oatmeal. If the oatmeal is still dry, add 1 tsp coconut oil.
Spoon the contents of the bowl into the hollowed-out apples. Pack it in tight and then stack some on top of the apple.
Place in the oven and bake for 20-25 minutes until the top has browned.
Baked Bread Stuffing 
Nutrition Facts
Serving Size 1 serving Recipe yields 5
Amount per serving
Calories 142
Total Fat 1 g
Total Carbs 25 g
Protein 8 g
Ingredients
8 slices toasted Ezekiel Bread (If you want to increase the sweetness try Ezekiel raisin bread)
2 cups Low Sodium Chicken Broth
2/3 Shallot (chopped)
1 tbsp minced Garlic
2 Celery Stalks (chopped)
1 Red Bell Pepper (chopped)
Fresh Rosemary Twig
1 tsp Sage (I prefer fresh)
1 tsp Cumin
To taste Sea Salt
To taste Pepper
Directions
Preheat oven to 375 F.
Lightly toast pieces of Ezekiel bread and then cut into small cubes. Place in a large bowl or baking dish.
Place a nonstick skillet over medium heat and lightly spray with olive oil.
Add garlic and shallots to the skillet and cook until brown.
Cut celery and bell pepper into small pieces and add to the skillet.
Reduce the heat of the skillet to low medium and pour 1 cup of chicken broth to the mixture and stir.
Add seasonings and your rosemary twig to the skillet. Cover and let it simmer for about 10 minutes.
Remove the rosemary twig and then pour the broth and veggies over the bread cubes. Stir with a large spoon or spatula. Add remaining cup of chicken broth and continue to stir until the bread absorbs the broth. If your stuffing is a little dry after adding the chicken broth, add a few tablespoons of chicken broth until it is moist.
Bake in the oven for about 20 minutes. Remove and then stir with a spoon again. If you see the stuffing is a little dry, add a few more tablespoons of chicken broth and place back in the oven and bake for another 15-20 minutes"
Are you looking to take your skills in the kitchen to the next level and train for a new career?  If so, consider the Culinary Arts program at Dorsey Schools.  The program has been carefully designed to provide students with a well-rounded approach to their culinary training.  Students in Dorsey's Culinary Arts program will have the opportunity to learn about a variety of topics including nutrition and healthy cooking.  The program strives to expose students to a variety of skills and aspects of the culinary industry to assist them in maximizing their prospects in pursuing entry-level job opportunities upon graduation.  The Culinary Arts program is offered at the Dorsey Schools Roseville, MI campus (a branch campus of Madison Heights) and the Dorsey Schools Waterford-Pontiac, MI campus (a branch campus of Madison Heights).
Have more questions about the Culinary Arts program?  Check out our Culinary Arts FAQ page.
Ready to take the next step?  Give Dorsey Schools a call at 888-422-1188 or click here to request information.
Reviewed and edited 12/6/17