Baseball fans rejoice!  The 2016 Major League Baseball season kicked off this week and despite our recent frigid temperatures here in Michigan, the home opener for the Detroit Tigers is this Friday August 8th when they square off against the New York Yankees at Comerica Park.
New Eats at Comerica Park and Other Ballparks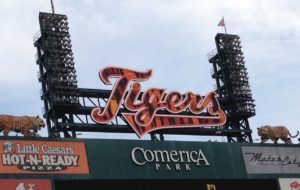 If the crack of the bat isn't exciting enough for you, there's plenty of buzz around some of the rookie culinary creations making their major league debut at both Comerica Park and other ballparks.  Always in search of hot topics on today's culinary scene, our team is going to take a look at a few of these new heavy hitting dishes in the lineup this year.
A New Spin on the Hotdog
There's something about indulging in a great hotdog when you take in a baseball game.  For the traditionalists out there, you can still get your regular frank, but this year, we're seeing hotdogs go to a whole new level.
At Comerica Park, there are two new spins on the hotdog that are worth pointing out:
The Mac Daddy Dog: You're going to start with a natural casing frank, then top it with mac & cheese, bacon bits, and scallions.
The Downtown Dog: Here again, we're going to start with a natural casing frank and top it with smoked pulled pork, crispy onion straws, jalapeno peppers, and sweet barbecue sauce.
Here are a few other hotdog concoctions our team found being served up at other ballparks:
The Meat Lover's Dog: This spin on the hotdog comes from Cincinnati where they take a bacon-wrapped all-beef hotdog and top it with fried salami, pulled pork, queso blanco, and pickles.
Cracker Jack and Mac Dog: Sweet, Savory and Spicy unite when this foot long all-beef hotdog is topped with mac & cheese, caramel sauce and fried jalapenos on a naan bun.  This dog also comes with a side of cracker jacks (eh, why not just pour them on top of the hotdog while you're at it?!).
Other Savory Favorites

If you're looking for something else to try at the ballpark this season, you're in luck!  At Comerica Park, you can still catch some of the regular favorites such as nachos and Little Caesars pizza, but there are also a few other dishes that will be available to tempt your taste buds.
A few of the new arrivals at CoPa this season include:
The Brat Pop: A bratwurst patty that is battered, fried, and served on a stick.
Chicken & Waffles: This culinary delight makes its way to the ballpark in Detroit when fried chicken is paired with waffles that are dusted with powdered sugar and warm maple syrup.
Here are some of the new savory dishes on deck at other ballparks this season:
The Burgerizza: We have the city Atlanta to thank for bringing us this 2-in-1 combo where pizza meets hamburger!  Two 8-inch pepperoni pizzas serve as the "bun" for a 20-oz beef patty, bacon, and cheddar cheese.
Irish Nachos: Houston is serving up kettle chips smothered in jalapeno queso, roasted tomatoes, and other popular toppings you often find on nachos.
The Sweet Stuff
It's hard to get much more classic than a box of crackerjacks when it comes to sweet staples at the ballpark and while you can still get your hands on a box this season, there will also be a few new sinfully sweet treats you can try while taking in a game.
Our team was particularly intrigued by these two dishes…
Deep Fried Oreos: This dish officially makes its debut at Comerica Park in Detroit, MI this season!  People have been enjoying Deep Fried Oreos for years, but now when you go to cheer the Tigers on to victory, you can enjoy this popular sandwich cookie that has been battered, fried, and then served with powdered sugar and chocolate sauce!
Dinger's Donuts: Straight out of St. Louis, these mini-donuts allow customers to choose their toppings/ingredients, such as chocolate sauce and sprinkles.  Oh, and did we mention, these are freshly fried?!  It's tough to beat a warm and fresh donut.
Do you love staying in the know about what's happening on the food scene?  Is cooking your passion?  If so, a career in the Culinary Arts could be right for you and Dorsey Schools can help you train for your new career.  The Culinary Arts program is designed to prepare students to work in professional food serving facilities in both the public and private sectors.  Students enrolled in the Culinary Arts Program "learn by doing" in the practical side of professional food preparation; education takes place in both kitchen and classroom settings. An externship component is included in the program and will allow students to assimilate the knowledge they've learned in the program into practical application.  As part of the program, students will be exposed to fundamental skills necessary for success in the culinary arts, including proper sanitation, knife cuts, "mise en place," cooking techniques, food preparation, food purchasing/specifications, catering and professionalism while also covering topics such as baking, butchering, and healthy cooking and nutrition.
The Culinary Arts Program at Dorsey Schools is programmatically accredited by The Accrediting Commission of the American Culinary Federation Education Foundation (ACFEF). Each graduate of the Culinary Arts Program at Dorsey Schools is eligible to become an ACF certified culinarian with documentation of both membership in the ACF and one year of in-field working experience.
To learn more about the Culinary Arts Program at Dorsey Schools, call 888-422-1188 or contact us.
Culinary Arts Program – Gainful Employment Disclosures
For more information about our graduation rates, the median debt of students who have completed the program, and other important information, please click here.
Sources: