Friday, September 19, 2014 is "National Tradesmen Day." Tradesmen are known as skilled manual workers in a particular trade or craft. Despite what is becoming a digital world, there is still a need for skilled trade workers.
"National Tradesmen Day" was set up to raise awareness and give thanks to those in the many different fields of skilled trades.
Skilled tradesmen are the ones who build and maintain our homes, schools, hospitals, roads and businesses. They keep our cars running smoothly, our water flowing, and much more. Without tradesmen, we would not have anyone to construct and repair the necessities and luxuries we've grown too accustomed to. In recent years, we have seen a growing shortage of workers within skilled trades. Nowadays, only a portion of high school students consider a career in skilled trades. "Irwin Tools" reports that America does not have a job shortage – America has a skills shortage. The unemployment rate continues to linger at historically high levels and it is difficult for people to find jobs of their career choice in the current market, and yet skilled trades are in critical need for accomplished tradesmen and can offer among some in-demand occupations.
Economic analysts insist on the fact that professions in the skilled trades will be in even more high demand in the near future because as the current workforce ages, the younger workforce isn't growing fast enough to reach demand. The American Society of Civil Engineers, an organization committed to improving the nation's infrastructure, graded America's current infrastructure with a D+ – estimating an investment that is needed by 2020 to improve the current infrastructure at $3.6 trillion.
Starting your career in skilled trades does require some training – but you don't need a college degree. If you enjoy working with your hands, solving problems, and like to be challenged, skilled trades might be a worthwhile career path to consider for great productivity and success. Dorsey Schools offers the education and hands-on training you need to start a new career in a specialty trade. Learn more about Dorsey Schools Skilled Trades programs here.
What can I do to help celebrate "National Tradesmen Day"?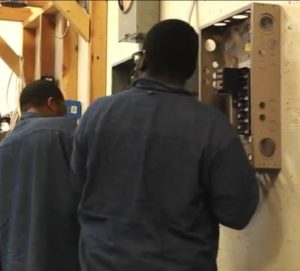 Simply say "thanks" to skilled trade students and instructors at the Dearborn and Wayne campuses at Dorsey Schools.
Do you have family or friends who are tradesmen? Tell them "thanks!"
Do you work at a hospital, grocery store, or live in an apartment that has a maintenance person? Don't forget to thank him/her or even buy them their morning coffee!
For more information about our graduation rates, the median debt of students who completed the program, and other important information, please visit our website at www.dorsey.edu/disclosures