In today's Dorsey Dish, we pay homage to the cherry, in celebration of National Cherry Month, which takes place each February.  For most of us, when we think about cherries, it's usually associated with a delicious pie, tart, or cobbler, but the cherry can be used for much more than desserts.  For example, think about Duck Confit Crostinis with Pickled Cherries and Duck Cracklings or perhaps Scallops with Cauliflower, Dried Cherries, and Capers.  The cherry is a versatile ingredient that can add dimension to a dish whether it be sweet or savory!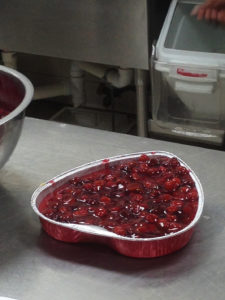 The cherry is also very near and dear to us here in Michigan.  In fact, did you know that Michigan has a bountiful cherry crop each year?  It's true…Michigan produces an estimated 70%-75% of all tart cherries grown in the United States.  Most of Michigan's cherries come from the Traverse City area, and it's a point for pride for that community.  Each summer Traverse City hosts a Cherry Festival to mark its importance in their local economy.
Dorsey Culinary Academy Celebrates National Cherry Month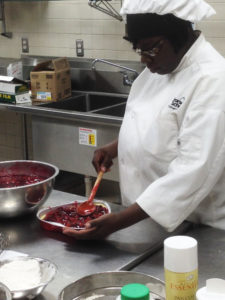 We visited Chef Usher's CA 105 afternoon class at the Roseville, MI campus recently as they were preparing Cherry Cheesecakes for the Valentine's Day bake sale.  While there, we caught up with Keyonnie L., a Culinary Arts student in her second mod.
Keyonnie tells us that making a delicious cherry topping for your cheesecake (or dessert of your choice!) is easier than you may think.  First, you have to boil your cherries on the stove while adding sugar and a "slurry," which Keyonnie explained is a mixture of ½ water and ½ corn starch.  The slurry is used to thicken the topping.  You'll bring all of this to a boil (usually 2-3 minutes) and once it has thickened, you'll remove it from the stove and place it into an ice bath to cool it down to 30-40 degrees.
Ironically, Keyonnie told us that Cherry Cheesecake happens to be her favorite cherry-flavored dessert.  She cited the freshness you get from this homemade cheesecake as being a reason why it's one of her favorites.
Students enrolled in CA 105 have the opportunity to learn how to make various baked goods and desserts.  When asked what her biggest take-away from CA 105 has been thus far, Keyonnie tells us how not to have "married" cookies (a term they use in class when cookies touch each other on the pan when baking and are together, which they don't want to have happen because those types of cookies aren't as visually appealing).  Keyonnie tells us that the secret here lies in mixing properly, using cold butter, and the creaming method – all important steps to ensure you get good quality cookies!  Cooking has always been a passion of Keyonnie's, which is why she decided to pursue training in the Culinary Arts.  She shares that she cooks a lot for her family and likes the Culinary Arts program at Dorsey because it's hands-on (and she likes to learn in that type of environment) and she is able to take a lot of the techniques she's learning at school home with her.
Great job, Keyonnie, and CA 105 students!  The cheesecakes were delicious!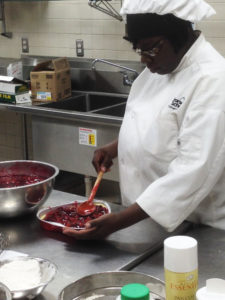 Dorsey Schools Culinary Arts Program
The Culinary Arts diploma program offered at Dorsey Schools provides students with career training in this p opular profession. Cooking has been elevated in the past few years from an intriguing hobby for many to a whimsical art form to a serious career path, crafted by dedicated and experienced professionals.
Students enrolled in the Culinary Arts program will receive their individual culinary equipment that is necessary to complete the cooking courses at Dorsey. The Culinary Arts program is designed to prepare students to work in professional food serving facilities in both the public and private sectors.  Student in this program will have the benefit and opportunity to "learn by doing" in the practical side of professional food preparation; that's because education takes place in both the kitchen and classroom settings.   During the final module of training, an externship component will allow students to assimilate the knowledge they've learned in the program into an occupational setting. Students of Dorsey Schools Culinary Arts Program have the opportunity to acquire the experience and training that are needed to gain the competitive and creative edge in the development of their culinary career.  Training in the Culinary Arts program includes:
Coverage of fundamental skills in the culinary arts, including proper sanitation, knife cuts, "mise en place," cooking techniques, food preparation, food purchasing/specifications, catering and professionalism.
Various aspects of the culinary industry, including baking, butchering, and healthy cooking and nutrition.
An introduction to menu planning and pricing, kitchen management, and inventory control.
Students have the opportunity to challenge the National Restaurant Association's ServSafe® Certification exam and challenge the National Restaurant Association Educational Foundation's ("NRAEF") Nutrition certification test, as part of the Culinary Arts Program.
The Culinary Arts Program at Dorsey Schools is programmatically accredited by The Accrediting Commission of the American Culinary Federation Education Foundation (ACFEF). Each graduate of the Culinary Arts Program at Dorsey Schools is eligible to become an ACF certified culinarian with documentation of both membership in the ACF and one year of in-field working experience.
If you'd like to explore training for a new career in the Culinary Arts, Dorsey Schools may be right for you!  You can give Dorsey Schools a call at 888-422-1188 or request info online.
Culinary Arts Program – Gainful Employment Disclosures
For more information about our graduation rates, the median debt of students who have completed the program, and other important information, please click here.
Sources: