Skilled trades are vital to our state's economy. With nearly five percent of statewide employment, occupations in the skilled trades are an important source of jobs in Michigan's economy. "We are positioning Michigan to become the national leader in developing talent," says Governor Rick Snyder.
Michigan Skilled Trades
Skilled trades are expected to be among Michigan's fastest growing professions with a lot of job opportunities. The current skilled workers' workforce is approaching retirement age, which will require many Michigan-based companies to fill jobs for a growing field where there aren't enough qualified applicants. Forbes Magazine, using statistics from EMSI, reports that in 2012, 53 percent of skilled trade workers in the U.S. were 45 years of age or older.
Skilled Trades Job Outlook
Job outlooks for many skilled trade professions are expected to grow much faster than average. For example, HVAC-related professions are expected to grow by 21% from 2012 to 2022, according to the Bureau of Labor Statistics.
Skilled Trades Training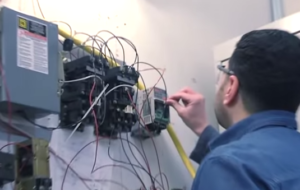 Recently announced presidential candidate, Senator Marco Rubio has stated, "This country has wrongly stigmatized technical education. We've created this idea that unless you get a four-year degree, you are somehow not successful." The professions in skilled trades generally do not require a four-year degree and typically require some education beyond high school in addition to on-the-job training."
With Michigan career training schools such as Dorsey Schools, students who are studying skilled trades (like the HVAC Systems Technician and Electrical Technician programs) receive a combination of classroom education and hands-on practice. Students train in lab settings that are specifically designed to simulate what they can experience in the "real world" occupational setting. Not everyone needs four years of college to be successful. Pursuing a career in the skilled trades can lead you to be in demand for skilled job opportunities. Now is the time to get the education and hands-on training you need to start your successful new career in a skilled trade.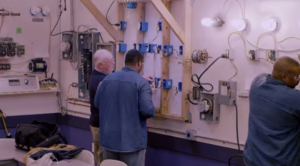 Jobs in the skilled trades include those in the fields of electrical, HVAC and refrigeration, appliance service repair, masonry, carpentry, auto mechanics, welding, pipe fitting, plumbing, and much more. These are the workers and jobs that are essential for day-to-day operations for every business, medical facility, government agency, and residential household in the U.S. Ask yourself: "Am I good at working with your hands and solving problems?" If you answered "yes," a career in the skilled trades may be for you! For more information on the Skilled Trades programs at Dorsey Schools, please visit us here.
For more information about our graduation rates, the median debt of students who completed the programs, and other important information, please visit our website at https://www.dorsey.edu/disclosures.