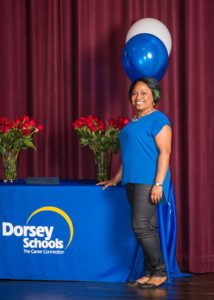 The cosmetology industry is full of creative and highly skilled individuals who have a passion for providing beauty services and treatments like nails, make-up and hairstyling. Choosing to attend cosmetology school and pursuing a career as a licensed cosmetologist can be a very fun, creative and exciting career in the world of beauty and fashion. Dorsey School of Beauty is designed to take those who are interested in the beauty industry to the next professional level. We recently sat down with Michelle Lowden, Lead Instructor of Cosmetology at our Lansing Campus, to talk about the Cosmetology program at Dorsey School of Beauty.
Q: What makes Cosmetology students at Dorsey School of Beauty stand out?
A: Our students choose Dorsey because we empower them to expand on their current creativeness and to grow in a career they are gifted in and passionate for. We turn dreams into graduations.
Q. What area of the cosmetology industry do most of your graduates end up working in?
A: Once you are a licensed graduate, you have the opportunity to reinforce your education through corporate or franchise salons that provide continued education as a benefit of employment. However, some students will choose to begin their career as independent stylists taking their already established clients to a salon where they are able to set their own hours and prices.
Q: What cosmetology techniques are students most eager to learn?
A: We find that most students have a basic understanding of hair, skin and nails and we continue to build on that foundation taking their education to the next level exploring hair color, various haircutting techniques, hair extensions, facial manipulations, nail extensions and nail art.
Q: Any advice for someone who is on the fence about working towards a career in cosmetology?
A: Cosmetology school offers the foundation necessary to become a licensed cosmetologist and the professional you desire to be. The curriculum focuses on sanitation and patron protection, proper client consultations, the science behind hair, skin and nails in order to understand the ins and outs of a variety of services such as chemical restructuring, color formulation, plus professionalism and career building, which are the basis for a rewarding career.
Q: What is one thing you wish you knew when you were an entry level cosmetologist just getting started?
A: I would have to answer that question with the one thing I APPRECIATED most as an entry level cosmetologist and that was my understanding of my capabilities and true value as a cosmetologist. I had become an agent of change!
Q: What is currently your favorite cosmetic product? Do students have the opportunity to work with this product?
A: We recently joined the American Association of Cosmetology Schools allowing exposure to more professionally used products. Tammy Taylor Nail care and nail enhancement products is one of my current favorites. The products have a low odor and ease of application that allows students the additional confidence to acquire a new skill. Our students have access to quarterly training workshops that allow them full exposure to the Tammy Taylor product line.
Dorsey School of Beauty
The Dorsey School of Beauty Cosmetology program is designed to prepare students for  employers and employment opportunities in the beauty industry. Our cosmetology program combines lecture classes and hands-on training in a clinic with professional equipment. To learn more about Dorsey School of Beauty or come visit one of our locations please visit us at: https://www.dorsey.edu/school-of-beauty.php
For more information about our graduation rates, the median debt of students who completed the programs, and other important information, please visit our website at https://www.dorsey.edu/disclosures.php.