Are you considering a new career as a Medical Assistant?  If you answered "yes," congrats.  This can be very exciting!  You've chosen a field and a profession that can be both challenging and rewarding.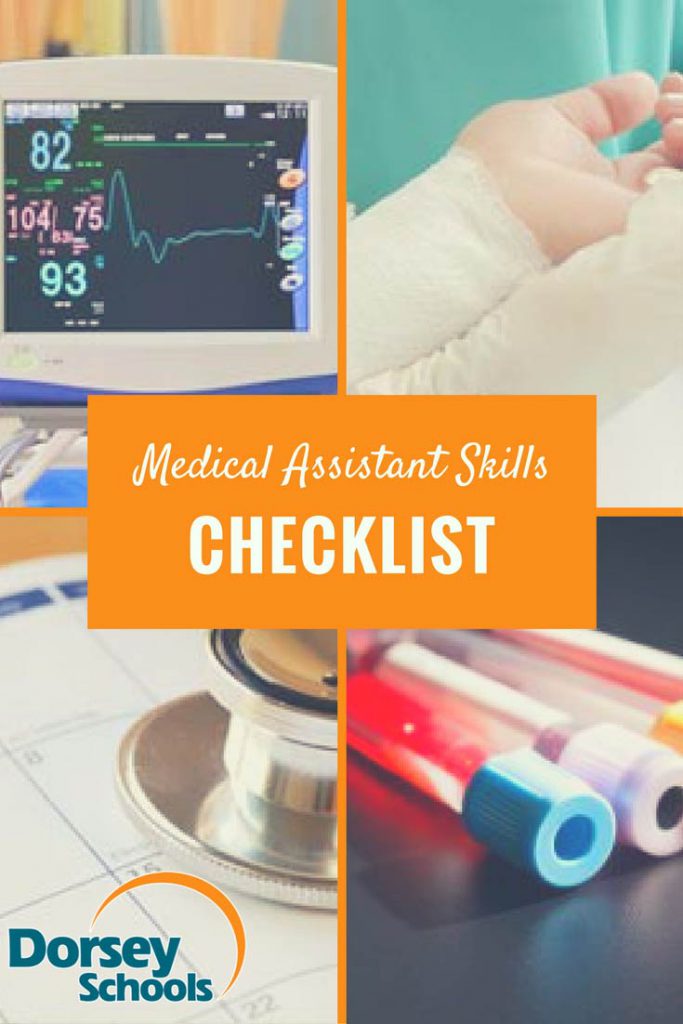 Medical Assistant Skills Checklist
Are you wondering what it takes to become a great Medical Assistant?  First, you want to receive comprehensive training.  This will help ensure you will possess the skills necessary for succeeding in the field. Below we've captured a list of 5 skills one should possess that can be helpful in their success as a Medical Assistant. Check them out!
Taking Vital Measurements
Vital signs are essential to understanding what is going on with the patient at a given time. A medical assistant needs to be able to take vital signs.  This includes temperature, pulse, respirations, and blood pressure. New technology can make taking vitals very easy and quick.  However, a good medical assistant has the ability to take a manual blood pressure.
Drawing Blood
Drawing blood is a key skill for a Medical Assistant to have. It takes clinical knowledge, a steady hand and a calming demeanor. It requires the ability to locate a superficial vein on a patient.  Once located you need to access it with a needle and draw the blood into a Vacutainer.  This process can be difficult, especially in certain circumstances.  Because of that, mastery of this skill is key.
Performing EKGs
EKGs (ECGs) or Electrocardiograms measure electrical activity in the heart.  This tells the doctors how the heart muscle is functioning. A medical assistant needs to be able to perform EKGs accurately.  This is important in order to obtain an accurate diagnosis.
Providing Basic Wound Care
Medical assistants often help patients by providing basic wound care.  This may include removing sutures and applying simple dressings. This can be a tricky business.  Sutures are sometimes embedded deep in the skin.  They may also be tied closely to the skin and require maneuvering. Applying a dressing to a wound requires knowledge of sterile or sanitary techniques.  These techniques are essential in order to prevent infection.
Scheduling
In addition to performing clinical duties, Medical assistants are also often responsible for administrative duties.  This may include managing the front desk of the office or practice.  Specifically, they must be able to complete duties such as scheduling appointments.
These are some of the skills a Medical Assistant should have. Medical Assistant training programs strive to prepare their students by covering these skills.
Does a career as a Medical Assistant sounds right for you?  If so, consider furthering your education here at Dorsey Schools.
The Dorsey Schools Medical Assistant diploma program provides students with the opportunity to learn the skills that are necessary for employment as a medical assistant.  Medical Assistants are often found working in a medical office, clinic, or other healthcare facility. Graduates of the Dorsey Schools Medical Assistant program may go on to further advancement in the medical field, by way of becoming a certified Medical Assistant.
The Medical Assistant program covers a variety of topics including:
Taking and recording a health history, vital signs, and physical measurements
Infection Control
Pharmacology Basics
Administering Medications and Injections
Specimen Collection and handling for laboratory tests
First Aid
Medical Terminology
Anatomy & Physiology
Medical Office Procedures
Electronic Health Records
And more…!
The medical assistant program at Dorsey is designed to be completed in just one year!
To learn more about Dorsey Schools, visit us online at www.dorsey.edu. You may also give us a call at 888-422-1188 or request info online.
Medical Assistant Program – Gainful Employment Disclosures
For more information about our graduation rates, the median debt of students who have completed the program, and other important information, please click here.