When it comes to HVAC jobs available to trained technicians, your options may increase if you're open to working as an employee or as a contractor. Specific HVAC training that you receive could also impact the types of jobs you land. For example, to work as a HVAC refrigeration technician, you need to understand and comply with EPA regulations. Other HVAC jobs available may require you to know about building designs, construction, and electrical units
Future of HVAC Jobs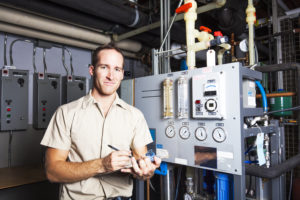 Jobs for HVAC Mechanics and Installers are expected to grow by about 14% from 2014 through 2024a. According to the Bureau of Labor Statistics (BLS), this puts job growth for these HVAC specialists, ahead of other career fields that are only expected to experience average growth during the same time perioda.
Pay and work flexibility for some technicians who go from apprentice to highly skilled specialist could also grow. But, first let's take a look at several jobs in the field. We consulted with O*Net Online and in addition to working as an HVAC Mechanic and Installer, there are several other job titles skilled technicians in this field may work under, including (but not limited to)b:
Air Conditioning Technician
HVAC Installer
HVAC Mechanic
HVAC Service Tech
HVAC Specialist
Systems Mechanic
Some Places to find HVAC Jobs
Commercial facilities maintenance firms, food service companies, and industrial plants are some of the organizations where skilled technicians completing HVAC jobs may be employed. HVAC jobs available for a trained HVAC technician may also be found at places like:
Retail stores
Factories
Apartment complexes
Schools
Hotels
Hospitals
Power plants
Private homes
Refrigeration companies
Equipment repair businesses
According to the US Department of Labor Bureau of Labor Statistics, the median pay that a HVAC Mechanic and Installer earned as of May 2014 was $44,630. The BLS also shares that the bottom 10% of technicians took home an annual median wage of less than $27,630. At the top 10%, technicians' annual wages were above $70,820a.
Like any career-oriented decision, it's important to consider your career goals and work-related passions before you settle on a particular HVAC repair or HVAC system job.
Associations that Support a HVAC Technician
Support for a HVAC technician is available through regional, national, and international associations. Networking opportunities, professional seminars, and career information are types of benefits offered by the associations. Among these associations, there is:
American Society of Heating, Refrigerating and Air-Conditioning Engineers, Inc.
National Air Duct Cleaners Association
National Insulation Association
Southwest Insulation Contractors Association
Air Conditioning Contractors of American Association
Training for HVAC Jobs Available at Dorsey Schools
At Dorsey Schools, we're here to help you explore HVAC training and upon graduation, HVAC career options. Key areas you can learn about include inspection, trouble shooting, repair and maintenance, and industry safety standards. If you're thinking about pursuing a HVAC career, you need to have the knowledge to read and work with tools like blueprints, electric units, heating systems, and different types of chemicals.
The HVAC Systems Technician training program at Dorsey Schools is designed to prepare you for the EPA universal certification examination. Our on-campus diploma program is available at our Wayne, Michigan campus.  Contact us today to get more details on our HVAC Systems Technician training program. Graduates of our training program have gone on to work for various organizations, including home improvement, heating and cooling, and building maintenance companies.
Our hands-on program can be completed in less than a year. In addition to classroom training, you will have the opportunity to complete an externship. We look forward to helping you gain the skills and knowledge to work in one of the country's growing career fields. Call us at 888-422-1188 or contact us online today to discuss how our HVAC Systems Technician training program can help you gain the skills needed to start working in the HVAC field.
HVAC Systems Technician-Gainful Employment Disclosures
For more information about our graduation rates, the median debt of students who have completed the program, and other important information, please click here
Sources:
a Bureau of Labor Statistics, U.S. Department of Labor, Occupational Outlook Handbook, 2016-17 Edition, Heating, Air Conditioning, and Refrigeration Mechanics and Installers, on the Internet at http://www.bls.gov/ooh/installation-maintenance-and-repair/heating-air-conditioning-and-refrigeration-mechanics-and-installers.htm (visited January 06, 2016).
b  http://www.onetonline.org/link/summary/49-9021.01
Additional Sources: