We recently sat down with our very own Chef Usher from the Roseville, MI campus of Dorsey Culinary Academy who gave us some step-by-step directions on how to decorate a cake. Check it out!
[caption id="attachment_4585" align="alignleft" width="300"]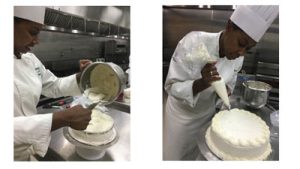 How To Decorate A Cake - Dorsey Culinary Academy[/caption]
One of the most anticipated dessert for any occasion is the cake, whether it's for a birthday, graduation or a wedding. How do you decorate a cake you ask? It's very simple. First, you need the desired amount of cake layers, let's say 2-9 inch cakes. You want to make sure that the cake layers are baked the day before decoration and they have a chance to cool down. The biggest mistake is baking a cake and trying to decorate it the same day.
How to Decorate a Cake | Cooking Schools in Michigan
[caption id="attachment_4584" align="alignleft" width="200"]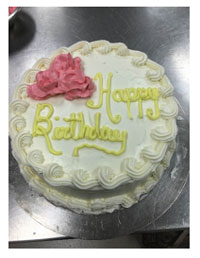 How To Decorate A Cake - Dorsey Culinary Academy[/caption]
1. Once you have your cake layers, you want to trim the top off to make it as even as possible, that way the cake won't be lopsided. Discard the extra pieces, unless you want to use them for cake pops or just as a snack.
Now that there are 2 perfectly trimmed cakes, place on a cardboard cake circle. You can purchase one at the local craft store or a cake decorating store. After you placed the cake on the circle, add enough frosting to cover the entire top of the cake. Next place the second layer on top of the frosted cake, make sure it is as even as possible.
2. The next step is to cover the entire cake from the top to the sides with frosting, this is called a crumb coat. It is designed to seal any crumbs to the cake, this coat does not require a lot of frosting, and you should still be able to see the cake. Allow the cake to set up and get hard in the fridge for about 10-15 minutes.
[caption id="attachment_4583" align="alignleft" width="300"]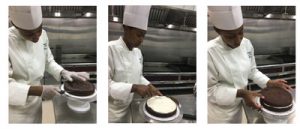 Decorating A Cake At Our Roseville Culinary Academy Campus[/caption]
3. Remove the cake from the fridge and apply another coat of frosting, this time it should be a generous amount. Remember to cover the top and the sides with an even coat. Once the cake is completely covered, it is now time to add the top and bottom border to the cake.
4. Once the top and bottom border have been added, you can now add whatever design you want to the top of the cake. The top border is always put on first, it acts as a guide so that the design will be even.
[caption id="attachment_4581" align="alignright" width="300"]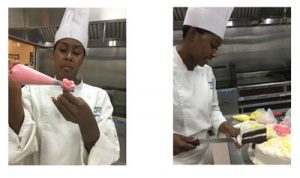 Frosting A Cake in Roseville, MI[/caption]
Achieving this design is used with the following decorator's tips:
#30-Shell border, #104-Rose, #2-Lettering, #67- leaves
Culinary Arts training in Michigan | Dorsey Culinary Academy
Do you enjoy cooking and baking delicious dishes and tasty treats? If so, pursuing culinary arts training in Michigan could be for you! Dorsey Culinary Academy offers a Culinary Arts training program. The program is offered in Roseville, MI and Waterford-Pontiac, MI (both are branch campuses of Madison Heights).
Do you want to learn more about the Culinary Arts training in Michigan at Dorsey Culinary Academy? Give Dorsey Schools a call at 888-422-1188 or contact us online today!
Culinary Arts program – Gainful Employment Disclosures
For more information about our graduation rates, the median debt of students who have completed the program, and other important information, please click here.
Reviewed and edited 12/6/17