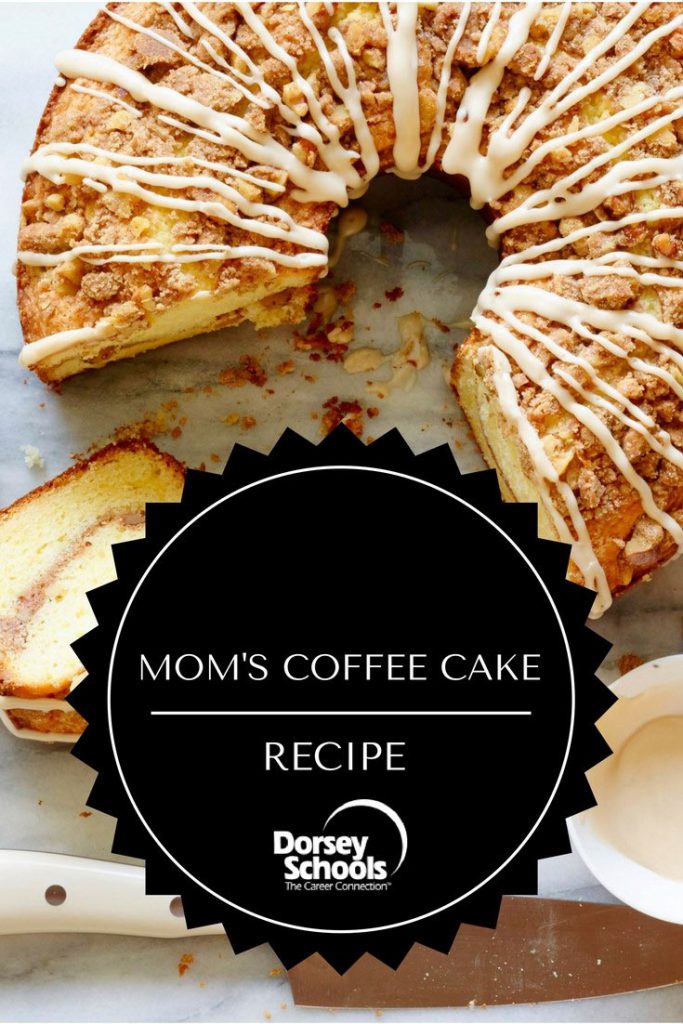 The 2016 Holiday Season is upon us.  It's a great time to enjoy the company of family and friends.  It's also a time when we can enjoy some great food, too!  All of us here at Dorsey Culinary Academy wish you the happiest of holidays.  We also asked our chefs for some of their favorite holiday recipes.  We collected a few that we wanted to share with our loyal readers.  Take a look and see if this dish will be making an appearance at your home this holiday season.
Holiday Recipes – Mom's Coffeecake | Culinary School Tips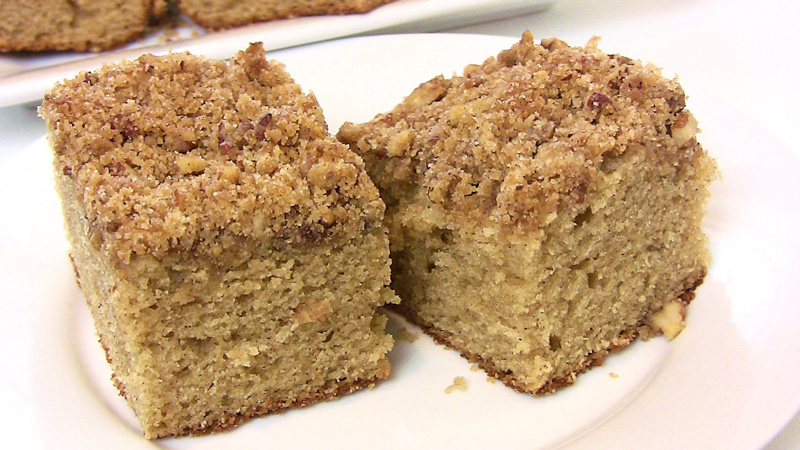 Today's Holiday Recipe comes to us from Chef Adamski from our Roseville, MI Culinary School.  Chef Adamski's recipe is "Mom's Coffeecake."  A coffeecake is often a great dish to prepare for breakfast.  It can be a quick go-to that adds a little flare to your morning meal.  Check out Chef Adamski's recipe below along with a Culinary School tip he shares with us.
Directions:
Prepare the pan: Spray a bundt pan or a round coffeecake pan with a removable bottom. You can also rub the pan w/ butter
Turn on conventional oven to 350 degrees
Ingredients:
1c. softened butter
1 c. sugar
2 beaten eggs
1 t. pure vanilla
1 c. sour cream
2 c. flour
1 t. baking powder
½ t. baking soda
Streusel: ¾ c. chopped pecans
1 c. maraschino cherries, cut in half
Cream the butter and sugar. Add eggs till incorporated. Add vanilla and sour cream until just incorporated. Sift dry ingredients and fold into cream mixture by hand. Pour half of mixture into pan, add half of cherries and push into batter. Top w/ half the streusel. Add rest of batter, push in rest of cherries. Top w/ rest of streusel, wipe edge of pan, bake 45 minutes, and pull out when toothpick inserted comes out clean. Allow to cool. May be topped with a glaze of 1 c. sifted powdered sugar mixed with ¼ c. milk when cool.
Culinary School Tip #1:  Don't Overmix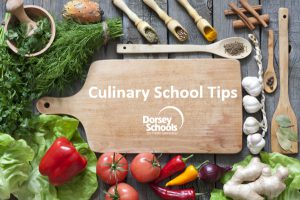 As you're preparing Mom's Coffeecake this holiday season, we want it to be a smashing success for you.  Chef Adamski shares this Culinary School Tip with us in preparing this recipe.  "The trick to this recipe is to mix in the dry ingredients BY HAND. This ensures that it will not be overmixed, which leads to a denser product."
There you have it!  If you're looking for a delicious dish to prepare this holiday season, consider giving this coffeecake a try.  This could be just what you're looking for to start your morning off on a good note.
Are you interested in training for a new career in the Culinary Arts?  If so, Dorsey Culinary Academy may be just what you're looking for.  The Culinary Arts training program at Dorsey offers students the opportunity to explore the wide world of food preparation.  Instruction in this program takes place in both the classroom as well as in the kitchen.  This allows students a balanced approach to their culinary arts school education.  A variety of topics are covered in the Culinary Arts program.  Some of these include exposure to various cooking techniques, baking and butchering.  Nutrition, catering, and regional and international cuisines are also discussed.  Students will also take part in an externship.  The externship takes place at the end of the culinary arts training program.  The goal here is to allow students to apply what they have learned while giving them the opportunity to gain professional exposure in the field.
Two Dorsey campuses offer the Culinary Arts program.  It is offered at the Roseville, MI and Waterford-Pontiac, MI campuses.
The Culinary Arts program at Dorsey Schools is accredited by The Accrediting Commission of the American Culinary Federation Education Foundation (ACFEF). Each graduate of the Culinary Arts program at Dorsey Schools is eligible to become an ACF certified culinarian with documentation of both membership in the ACF and one year of in-field working experience.
Interested in learning more?  The team at Dorsey would love to talk to you.  Feel free to contact Dorsey Schools at 888-422-1188 or request info online.
Culinary Arts Program – Gainful Employment Disclosures
For more information about our graduation rates, the median debt of students who have completed the program, and other important information, please click here.