Massage Therapy has been used around the world throughout history. Even now, in the 21st Century, interest and intrigue around the field of massage therapy continues to grow. In addition, it would be no surprise if more and more people are partaking in massage therapy training in hopes of pursuing a career as a massage therapist. Unfortunately, as fascination in the massage therapy field grows, so does the spread of widely believed "facts" regarding the field that simply aren't true. In this post, we will be going through and debunking five of the most common misbeliefs surrounding Massage Therapy.
Five Myths about Massage Therapy
Massage Therapists Only Work in Spas/Health Clubs
Although many people associate the idea of getting a massage with taking trip to the spa and lying in a dark room with candles, the practice of massage therapy extends much further.
When faced with the question: Where do Massage Therapists work? The answer given should be: it depends.
Because massage therapy depends heavily on the client's needs, the choices of work environment are vast. Most massage therapists will work wherever is most convenient and will best satisfy the customer. While a lot of massage therapists do work in spas, they may also work in franchised clinics, physicians' offices, hotels, business locations and fitness centers. Some even work out of their own homes or travel to clients' homes.
Anyone Can Work as a Massage Therapist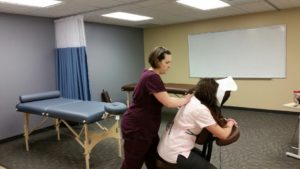 It is commonly assumed that anyone can get a job as a massage therapist regardless of prior training or certification. This is not true at all.  Receiving the proper Massage Therapy training is very important in order to enter the field, as well as earning a license (which is required in order to practice in most states, including Michigan).
If you're interested in learning more about the licensure process in the State of Michigan, information about how to become a licensed massage therapist can be found at: State of Michigan Massage Therapy website
The Projected Job Outlook for Massage Therapists is not Strong
Before dedicating the time, money, and effort into pursuing a career, it is important to make sure that there are jobs available within your field. No one wants to go into something that has a poor outlook and little potential for growth. A major misconception that may be preventing people from pursuing a career in massage therapy is that they believe the job outlook is low. This actually isn't true at all. On both a national and state level, massage therapy employment is projected to grow considerably in the coming years.
According to the US Department of Labor, Bureau of Labor Statistics, employment of massage therapists is projected to grow 26% from 2016 to 2026, which is much faster than average for all occupations. [i]
According to the State of Michigan DTMB, Bureau of Labor Market Information and Strategic Initiatives, employment of massage therapists is projected to grow 20.6% from 2014 to 2024. [ii]
"A Massage is a Massage"

Plenty of people assume that all massages are the same – they each just involve hot oil and muscle rubbing. However, this is not the case. Therapeutic needs vary from person-to-person, and day-to-day. In order to meet those needs, there are many different types of massage techniques, each with variations in pressure, areas of focus and desired outcome. Each individual technique requires special Massage therapy training in order to be executed correctly.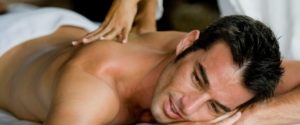 Some of the most recognized types of massage therapy are:
There are no Health Benefits to Massage Therapy
Some view massage therapy as a either a waste of time or an unnecessary luxury that does little to no good for the human body. However, Massage Therapy has been used for centuries as a form of complementary and alternative medicine. Research is still being done to analyze all of the health benefits that someone can get from receiving a massage.
Health benefits of Massage Therapy may include relief from ailments such as:
Anxiety
Digestive disorders
Fibromyalgia
Headaches
Insomnia related to stress
Myofascial pain syndrome
Soft tissue strains or injuries
Sports injuries
Temporomandibular joint pain
It is important to keep in mind that, although the alleviation of these negative conditions have been linked to massage therapy, it is to be used in a complimentary manner and not as a replacement to doctor prescribed treatments.
Dorsey Schools is an institutionally accredited career training school that aims to prepare students for promising opportunities in several fields. Our Massage Therapy training program provides in-depth instruction and valuable hands-on experience in healing patients through the use of touch. Students enrolled in this program will be given the opportunity to hone their massage skills and prepare for certification.
Training in this program includes:
Instruction in massage techniques, such as Swedish massage, deep tissue, neuromuscular therapy, sports massage, and more
Comprehensive understanding of anatomy, physiology, muscle actions, kinesiology, and the body's musculoskeletal system
Opportunity to practice all massage techniques learned throughout the program on members of the public in a supervised and simulated work environment
Eligibility to challenge the Massage & Bodywork Licensing Examination (MBLEx) and after successfully passing a certification exam, the ability to apply for licensure within the State of Michigan.
The Dorsey Schools Massage Therapy program is available at the following campus locations:
Does this sound like it could be the right career for you? If you want to begin training in Massage Therapy at Dorsey Schools, or are interested in learning more, give us a call at 888-422-1188 or click here to contact us.
Massage Therapy program – Gainful Employment Disclosures
For more information about our graduation rates, the median debt of students who have completed the Massage Therapy program, and other important information, please click here.
**As of November 29, 2014, massage therapists will be required to obtain a license to work in the State of Michigan. All applicants for a Massage Therapist license must have completed a supervised curriculum in massage therapy that has been approved by the Michigan Board of Massage Therapy. Dorsey Schools Massage Therapy program is an approved supervised curriculum by Michigan Board of Massage Therapy. Dorsey Schools will keep affected students apprised of newly implemented requirements for licensure as a Massage Therapist in the State of Michigan.
Sources:
Updated 10/16/18