Welcome to Spotlight!  We will feature Dorsey Schools' students, graduates, staff members, and others here from time to time to highlight their hard work and achievements.
In today's Spotlight, we would like to introduce you to Revah.  She's a student at the Dorsey Schools Dearborn, MI campus training in the Electrical Technician program.
Dorsey Schools Spotlight: Meet Revah, A Student In Our Electrical Technician Program!
"Revah is a wonderful student and is currently in her 6th module in the Electrical Technician program.  Revah is motivating and encouraging to her classmates.  She is always willing to push the guys to their limits and challenge them in their electrical projects.  Revah definitely deserves a spotlight. Revah, Dorsey Schools salute you!"
– Mr. Clark, Lead Instructor, Electrical Technician program, Dorsey Schools Dearborn, MI campus
Here's a little more about Revah: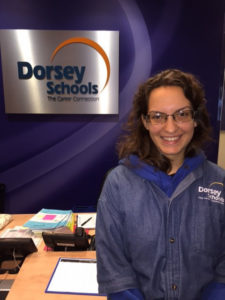 Name:  Revah H.
Dorsey Schools Campus:  Dearborn, MI
Program of Study:  Electrical Technician
Anticipated Graduation:  April, 2016
What brought you to Dorsey?  How did you hear about Dorsey and/or why did you decide to study at Dorsey?
"I was looking for a trade school, saw it offered what I wanted and was a reasonable distance from my house."
How/why did you select your specific program of study at Dorsey?
"I have always wanted to be an electrician since I was in 10th grade."
What is/has been the best part of your experience studying at Dorsey?
"Working with my hands and applying what I have learned."
What has been your favorite class in your program thus far?  Why has it been your favorite?
"My Electrical Equipment Testing class EL135 because I use tools and do hands-on every day."
What advice might you give to someone sitting at home who is thinking about studying at Dorsey, but they are unsure if they can do this?
"If you like to do something and you apply yourself you will grow in knowledge."
What advice might you give to a friend or classmate currently studying at Dorsey who is struggling and thinking about giving up?
"Study.  Find someone to be your friend and keep pushing each other."
Revah, we are very proud of all your accomplishments thus far.  We look forward to celebrating many more successes with you in the future!
For more information about our graduation rates, the median debt of students who have completed the program, and other important information, please visit www.dorsey.edu/disclosures.