Our very own Chef Matt Schellig from Dorsey Culinary Academy was recently named the Michigan Chefs de Cuisine Association's (MCCA) Chef Educator of the Year. This is an incredible award and Dorsey Schools is very proud to have one of our own recognized. Chef Matt received this award on October 1, 2018 at the Walnut Creek Country Club in South Lyon, MI. This event was a great opportunity for some of the brilliant chefs in Michigan to be highlighted for their talents. Nominees for various awards range from an executive chef at Michigan State University (Kurt Kwiatkowski pictured below), Michigan University, and Baker College. Chef Matt was also nominated for the regional Chef Educator of the Year award that will take place next year in Minneapolis Minnesota. Way to go Chef Matt!
Two distinguished members of the Dorsey Culinary Academy Student Body were also nominated for Student Chef of the Year, Zachary Battjes and Carl Leatherberry. Chef Matt and these two men highlight what it means to be outstanding culinarians and more importantly an outstanding member of their communities.
Throughout the nomination process chef, Matt was praised for his passion and love of teaching. Let us take this opportunity to learn about Chef Matt's career leading up to this recognition.
Chef Matt has had unbelievable experiences in some incredible kitchens such as Rattlesnake Club, A Matter of Taste, Duet, Zazios and the Novi Chophouse. His experience does not end in local kitchens. Chef Matt has also had the opportunity to travel to Luxembourg (Culinary World Cup) and Germany (Olympics).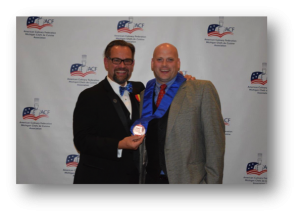 In 2012, Chef Matt started with Dorsey Schools and from that point forward, it was apparent teaching was his love. He now uses his early kitchen experience and a lot of enthusiasm when educating the next generation of culinary professionals. Chef Matt is a student favorite and instills hard work and passion into every one of them. On top of being the Director of Culinary Arts, he also works with the Dorsey Culinary Academy catering program, providing students with the opportunity to get real world experience at events throughout Metro Detroit while still enrolled in school.
At Dorsey Schools, we love to display student and staff recognition. Our educators strive to be the very best and in the case of Chef Matt, he is.