Prepare your sweet tooth because Friday June 3rd is National Doughnut Day 2016. Whether powdered, filled, or topped with an endless combination of goodies – donuts are perfect for anytime of the day. National Donut Day gives you the perfect excuse to partake in the delightful dessert, guilt free. We have even teamed up with Chef Usher, an instructor at Dorsey Culinary Academy's Roseville, MI campus, to provide you with a few donuts recipes so that you can create delicious treats for yourself or to share.
These are the recipes that Chef Usher shared with us (a yeast raised donut and two yummy glazes). They were so great that we had to share them with you!
Yeast Raised Donuts
Ingredients: 
2 packages (4 ½ teaspoons) of rapid rise yeast
¼ cup warm water (115 degrees)
1 ½ cups lukewarm milk (115 degrees)
½ cup sugar
1 teaspoon salt
2 eggs
1/3 cup shortening
5 cups all-purpose flour
Vegetable oil- as needed
Directions: 
In mixer, dissolve yeast in warm water. Then add the milk, sugar, salt, eggs, shortening and 2 cups of flour. Using a dough hook, mix well for on low speed for 1 minute.
Mix on medium speed for another 2 minutes
Stir in the remaining flour and beat until smooth.
Cover in the mixing bowl and let rise for 1 hour or until doubled in size.
Put the dough onto a floured surface and roll around to cover with flour. Using a rolling pin, roll dough out until it is ½ inch thick. Use a doughnut cutter to cut out the forms and place on a sheet tray.
Let the donut shapes rise for 1 hour or until doubled in size.
Heat oil in a deep fryer or large pot to 350 degrees
Gently place the donuts in the only. As they rise to the top, flip them over so that each side is light golden brown.
Remove from grease and let cool for 1 minute. Dip donut in glaze. Enjoy!
Glaze                                                                                        Chocolate Glaze Variation
1/3 cup butter                                                                               1/3 cup butter
2 cups powdered sugar                                                                2 cups powdered sugar
1 ½ teaspoon vanilla                                                                     1 ½ teaspoon vanilla
4-6 Tablespoon hot water                                                           4-6 Tablespoon hot water
4 ounces semi-sweet chips (melted)
Heat butter (& chocolate) until melted. Stir in powdered sugar and vanilla until smooth. Stir in water 1 tablespoon at a time until glazes reaches the desired consistency.
About National Donut Day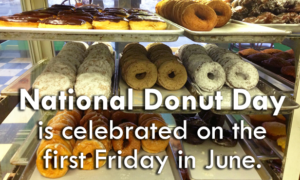 Even though no one needs an extra reason to honor and enjoy those delectable fried pastries, there is an actual backstory to the invention and annual celebration of National Donut Day that you should keep in mind while trying out these new recipes. National Donut Day was originally created in 1938 by The Salvation Army as a way to commemorate the Dough Lassies, a group of female volunteers that made and served donuts to soldiers serving overseas in an effort to raise their spirits during the First World War. Apparently the Dough Lassies Patriot efforts paid off and led soldiers to use the slogan "doughnuts will win the war!"
Culinary Arts Program at Dorsey Schools
The Culinary Arts program at Dorsey Schools aims to prepare students to work in professional food serving facilities. Education takes place in both kitchen and classroom settings and students have the opportunity to participate in hands on learning which will enable them to gain skills that are needed to have a competitive and creative edge in the development of their culinary career.
Training in this program includes:
Fundamental skills such as proper sanitation, knife cuts, "mise en place," cooking techniques, food preparation, food purchasing, catering and professionalism
Baking, butchering, healthy cooking and nutrition
Introduction to menu planning/pricing, kitchen management, and inventory control.
An externship allowing students to apply what they have learned throughout the program in a real-world culinary environment
The opportunity to challenge the National Restaurant Association's ServSafe® Certification exam and National Restaurant Association Educational Foundation's ("NRAEF") Nutrition certification test
The Culinary Arts Program is offered at the following locations:
Interested in learning more about Dorsey Schools?
Give us a call at 888-422-1188 or Request Info Online
Culinary Arts Program – Gainful Employment Disclosures
For more information about our graduation rates, the median debt of students who have completed the program, and other important information, please click here.