Are you interested in pursuing a career in the Culinary Arts? If so, that's great! Or perhaps you're working in the field already but you want to sharpen your skills or receive training?  The field of Culinary Arts is vast and filled with many promising and fulfilling opportunities. There are many different options when it comes to considering the training to begin your career in the culinary arts. Many Culinary Arts programs range from 1-2 years, but depending upon the program and the curriculum, some may be longer or shorter. 
Culinary Arts Classes – What Are The Benefits?
Here at Dorsey Schools, we think it's important for someone to evaluate the training that is included so they can ensure they are receiving the training they need (and want) prior to entering the Culinary field. In order to make the process a bit easier, we have compiled a list of things that a student would receive by attending our one year Culinary Arts Diploma program.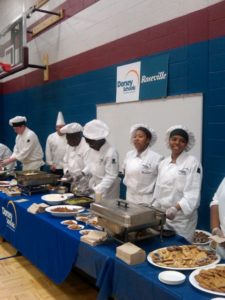 No Pre-Requisites or General Education Courses
The Culinary Arts program at Dorsey Schools has been designed with a specific purpose –   to expose students to the knowledge and skills needed to be prepared for entry-level employment opportunities in the culinary field. There will be no wasted time with information and courses that you don't need. Instead, our students just focus on what they're coming here for- Culinary Arts.
Opportunities Outside of Class
Dorsey Culinary Academy provides students with the opportunity to practice and hone the skills learned in class.  This can give students deeper knowledge and real world experience. Our Culinary Academy operates a fully licensed catering program.  The catering program's mission is to educate students with "live" events, to serve the public great food from scratch, and to provide excellent service. Students are also given the opportunity to participate in competitions.  Lastly, students will complete an externship, for added experience.
Learn From Talented Chef Instructors
Our instructors are caring individuals.  They possess experience, expertise, and noteworthy credentials in their field. Each of them are very passionate about what they do.  They also wish to help prepare students to enter into the culinary field. Our instructors meet the criteria set by the State of Michigan as well as criteria set by the Accrediting Council for Independent Colleges and Schools. Our Chef instructors also meet the rigorous guidelines set forth by the ACFEF (American Culinary Federation Educational Foundation).  In addition to their impressive backgrounds, our instructors also enjoy competing. Two years ago some of our instructors went to Culinary World Cup, a prestigious event within the industry. This year some instructors are also participating in the Culinary Olympics.

The Sooner You Start, the Sooner You Finish
The Dorsey Schools Culinary Arts program is designed to be completed in one year.  This allows our students to get in and get the training they need and get into the field faster. In longer programs, students may take more time to enter the field and may end up accumulating more debt.
Small Class Sizes
Our culinary program has small class sizes (most are less than 20 students).  Because of this, students within our program can get plenty of one-on-one attention supporting student success.
Books & Supplies Included in Tuition
In addition to program instruction, tuition includes all books and required supplies.  This includes two chef coats, two pairs of chef pants, a hat, and apron.  In addition, students will receive a kitchen knife tool kit. Dorsey Schools will also pay the cost one time for students in this program to challenge two certification exams.  The exams are National Restaurant Association Educational Foundation (NRAEF) ServSafe Food Protection Manager Certification and NRAEF Nutrition certification Test and the student must meet Dorsey Schools' exam preparation requirements.
Certification Opportunities
As previously mentioned, students in the Culinary Arts program will be able to challenge two certification exams.  The exams are National Restaurant Association's ServSafe certification test, as well as the National Restaurant Association Educational Foundation's ("NRAEF") Nutrition certification test.  Dorsey Schools will pay the cost one time for students in this program to challenge these exams, however, Dorsey Schools makes no promise or guarantee of a graduate's successful outcome of any certification exam or ability to gain certification recognition by any professional registry.
ACF Accredited
Dorsey Schools is institutionally accredited by the Accrediting Council for Independent Colleges and Schools (ACICS). In addition, the Culinary Arts program at Dorsey Schools is programmatically accredited by The Accrediting Commission of the American Culinary Federation Education Foundation (ACFEF). Because of this, each graduate of the Culinary Arts Program at Dorsey Schools is eligible to become an ACF certified culinarian with documentation of both membership in the ACF and one year of in-field working experience.
Externship
Students within the program participate in an externship. This happens during the last module of training.  The primary objective of externship is to insure that each student gains practical experience, knowledge, skills and insight into the food service occupation. It is a structured experience bringing together academic knowledge gained in the instructional kitchen and classroom with practical hands-on participation in various cooking tasks.
Career Services Assistance
No school can guarantee employment following graduation.  Here at Dorsey Schools, we provide assistance through career services such as help with resume writing, interview tips, as well as ongoing guidance and support. The best part: it is available to all eligible graduates of Dorsey Schools at no additional cost. Please be aware, however, that job placement is not guaranteed.
Does a career in the Culinary Arts sounds right for you?  Are you currently working in the field and want to strengthen your skills and background for the opportunity of potential career advancement in the future?  If so, consider pursuing your training here at Dorsey Schools.
Culinary Arts Program at Dorsey Schools
The program is offered at the following Dorsey Schools campus locations:
Interested in learning more about Dorsey Schools?
Give us a call at 888-422-1188 or Request Info Online
Culinary Arts Program – Gainful Employment Disclosures
For more information about our graduation rates, the median debt of students who have completed the program, and other important information, please click here.