A manicuring program can help prepare the beauty professionals of tomorrow. Students who graduate from Manicuring Programs in Michigan usually go on to work in nail salons, spas, or hair salons. Curriculums in these programs can be insightful and engaging. How build a strong client base is just one of the rewarding things that you can learn while completing a Manicuring program in Michigan.
5 Things You Can Learn in a Manicuring Program

Here are five other things that you can learn during Manicuring Training Programs in Michigan. Each of these takeaways could benefit you both in and outside of the classroom.
Professionalism & Life Skills
Manicuring training programs can help teach students to have a professional demeanor. This is key to succeeding in any career, but it is especially important to those in the beauty field. Maintaining a professional image while communicating with employers and clients is one of the traits often taught during manicuring training.
Sanitation and patron protection is another part of professionalism that may be taught while in a manicuring training program. Manicurists and pedicurists use a variety of tools, including nail clippers, nail files, and specialized cuticle tools. They must be focused and tidy while they perform their duties because most of the tools they use are sharp. Keeping their tools clean is extremely important.
In addition to those things, self-management and time management skills may also be taught while in the program. Whether you want to advance in your career by opening your own salon or you want to maintain a strong and loyal customer base, skills such as confidence, consistency, and patience are all necessary.
Anatomy & Physiology of the Skin, Hands, and Feet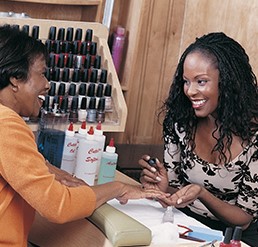 While training to become Manicurists, students may also learn about general anatomy and physiology, usually with a focus on skin and nail structure and growth. In addition, students may also learn about disorders which should not be treated in salons. This is to help guarantee the comfort and safety of patrons.
Foundational Manicuring & Pedicuring Skills
Manicurist training programs may also teach students the day-to-day procedures of a professional manicurist such as the proper procedure for giving a manicure (or pedicure). This training typically includes gaining an understanding of the steps in setting up, using, and cleaning/disinfecting equipment. In addition to these things, students can also learn polish applying and remove tips, as well as how to use Monomer Liquid and Polymer Powder Nail Enhancements.
Preparation for the State of Michigan Licensing Exam
In the state of Michigan, those wishing to work as a Manicurist are required to obtain a license. Students that participate in a training program can gain a clear understanding of what it takes to do this. While in a training program, students may learn everything they need to know to successfully pass the licensure exam. In order to help them prepare, they may also give the opportunity to participate in a mock practical exam.
Skills on How to Succeed on the Job and In the Salon Business
Manicurist training programs may also teach students the skills needed to succeed while working in the salon business. Some of these skills include demonstrating a basic understanding of cosmetology law, ways to build and keep a client base, the benefits of networking and an understanding of the responsibilities of a booth renter.
If you are looking to pursue an exciting career that allows you to interact with people, increase their happiness, and help them feel good about themselves and improve the way they look, a career as a manicurist or nail technician may be right for you.
To learn more about the Manicuring program at Dorsey College, call 888-422-1188 or contact us.
Manicuring training program | Michigan Nail Technician Training | Dorsey College
The Manicuring diploma program offered at Dorsey College gives students the opportunity to obtain a basic understanding of manicuring techniques. These include plain manicure, nail art, oil manicure, nail repair, and artificial nail application treatments. Training also includes nail technology, shop management, and a manicuring student kit.  The program is made up of a combination of in-class instruction and hands-on training in our on-campus beauty clinic.
The manicuring program is currently offered at the Dorsey College Madison Heights, MI campus location (Main Campus).  Ready to learn more about manicuring training in Michigan?  Give Dorsey College a call today.
Dorsey College is institutionally accredited by the Commission of the Council on Occupational Education (COE) and the Madison Heights campus serves as the Main Campus. 
As licensure is required for employment by the State of Michigan, Dorsey College will pay the cost of one time for graduates of this program to challenge the state licensure exam, contingent upon the graduate meeting Dorsey College's exam preparation requirements.  Dorsey College has determined that its Manicuring program curriculum is sufficient to fulfill educational requirements for licensure in the State of Michigan only. No educational determinations have been made for any other state, district or US territory in regards to licensure requirements.
Dorsey School of Beauty in Taylor, MI
Dorsey School of Beauty, located in Taylor, MI, is a sister school of Dorsey College.  Dorsey School of Beauty in Taylor, MI is institutionally accredited by the National Accrediting Commission of Career Arts and Sciences (NACCAS).  To learn more about Dorsey School of Beauty in Taylor, MI you can click here.