Do you enjoy the thrill of being quick on your feet? Do you thrive in handling high-pressure situations? If you answered yes to either of these, you should consider pursuing a paramedic career! Becoming a paramedic can prove to be a highly rewarding and door-opening career path. Paramedics serve a vital role in healthcare because of their ability to show compassion, safely transport patients to a hospital, and provide first aid during medical emergencies. Deciding to become a paramedic could mean being front and center in helping others through, and out of emergency situations. Does this sound like you?
If this career sounds like a fit for you, read on in this blog! Below we will discuss five reasons why you should pursue a paramedic career!
1. The Opportunity for a Rewarding Career
Deciding to pursue a paramedic career is an opportunity for a rewarding career path. A paramedic career can be impactful due to the many lives you could save while on the job. In high-stress moments, paramedics are able to keep patients calm. They also provide care and treatment at the scene of an emergency. Helping others in times of need is a great feeling and something that can make you feel proud. During your training to become a paramedic, you will have the opportunity to learn the knowledge and skills to help launch your paramedic career. In addition to the necessary medical skills, you can also develop your soft skills. These include things like interpersonal skills and listening skills. Through your training, you may also be able to hone your problem-solving skills. These skills, along with other tactics you may learn, can be helpful for a paramedic working in the field. The skills that you will be presented within training can aid you in the many types of situations you may encounter during your paramedic career. Paramedics are an important part of our communities and are needed everywhere! The choice to become a paramedic presents individuals with the opportunity for a rewarding career based on the work they do on a daily basis.
2. Increased Paramedic Career Opportunities
According to the US Department of Labor, Bureau of Labor Statistics, the employment of EMT's and Paramedics is projected to grow 11% nationally from 2020-2030 (that's faster than average) (1)! If you were looking to enter a field where the job market is growing, you found it! In addition to the expected national growth, local communities in Michigan have cited a need for qualified Paramedics as well! If you have decided to become a paramedic in MI, you are entering a field with a good employment outlook. The positive employment outlook for paramedics is partially due to the growth of the middle-aged and older population. As more people grow older, the need for emergency medical responders and services will grow as well. There will always be a need for skilled Paramedics because they are critical in times of an emergency. Paramedics are difference makers and make a difference in the communities around them. Pursuing a paramedic career now when there is a need is good because there can more opportunities in this field.
3. Make a Difference in Your Local Community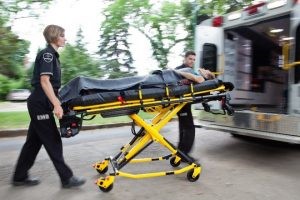 While pursuing paramedic career opportunities, keep in mind that you will be seeking a role as a community "hero" (in one term or another). When you are at work as a paramedic, you are not only performing your job but also making a difference in your community. You will be on the scene when the community is faced with an emergency situation. Your training will aim to prepare you to perform tasks such as CPR, dressing wounds, and hydrating patients. Paramedics are also responsible for stabilizing patients, transporting them safely to a hospital or medical care facility, and much more. Career opportunities for paramedics offer not only the chance to be a hero but also allow them to give back to the community. Without paramedics and their dedication to others, many medical emergencies would be left unhandled and less safe. People's lives depend on the quick reaction and competent care of paramedics. Because of this, the safety measures they take, their calm nature, professionalism, and commitment matters to their community. Communities need paramedics, and they are recognized and appreciated for being difference makers.
4. Short Training Time
Another great reason to decide to pursue paramedic career opportunities is the fact that paramedic training is not too long. Training to become a paramedic can be completed in just about one year. With faster training time, you may have the possibility of getting your paramedic career started quicker! The convenience of the short training time makes it easier for those with a busy schedule. Therefore, if time is a concern for you, the short training time for paramedics could be a plus.
Once you decide to pursue a paramedic career, you should already have an EMT license. You will also need to complete an approved Paramedic training program. After that, you can begin on your journey in pursuit of your license and various paramedic career opportunities.
5. Constant Learning & Possibility to Climb the Career Ladder
A paramedic career can also lead to many different career opportunities in the EMS field. Some career opportunities for paramedics down the road may include becoming an EMS Manager, or an EMS Instructor-Coordinator. Others may use their skills to pursue a career as a Firefighter. Some may even choose to go back to school to pursue a career in Nursing. If you decide to pursue a role beyond a paramedic, it is best to research the specific requirements of that role, as some of these positions may require further training and additional licensure.
There are various paramedic career opportunities out there for those with the necessary skills and knowledge. It is a good idea to make sure all of the skills and knowledge you learned are up to date. Staying current in your skillset helps so that you can perform to the best of your ability while on the job. The healthcare field is always evolving, and your skillset can grow with it! Deciding to become a paramedic is a career choice that can present you with opportunities in the future. As you progress with your skills and knowledge, so can your options for paramedic career opportunities!
Do you think you have what it takes to pursue a paramedic career? Can you see yourself as a difference-maker ready to serve your community? Are you ready to begin your path towards a rewarding career with many opportunities? Check out the information below on the Paramedic training program at Dorsey Emergency Medical Academy.
Paramedic training | Dorsey College
Dorsey College's Paramedic program is designed to prepare students to pursue a career as a paramedic. Dorsey College's Paramedic program takes just over a year to complete, depending on the program schedule selected. The Paramedic program is designed with an emphasis on pathophysiology and hands-on training. At Dorsey College, students are required to complete 500 hours of clinical experience, in addition to their classroom instructional time.
Dorsey College's goal is to provide each student with the necessary skills and knowledge to begin work after proper training and licensure. Upon successful completion of the paramedic program, students will be eligible to take on the National Registry of Emergency Medical Technicians (NREMT) examination which qualifies program graduates to apply for State of Michigan EMS licensure.
The Paramedic program at Dorsey College is offered at the following campus locations:
Madison Heights, MI (Main Campus)
Woodhaven, MI (A branch campus of Madison Heights)
If you are interested in learning more information about Dorsey College Paramedic program, please feel free to reach out to us here. Once we receive your information/inquiry, someone will contact you and would be happy to answer your questions. We hope to hear from you soon!
Dorsey College has determined that its Paramedic program curriculum is sufficient to fulfill educational requirements for licensure in the State of Michigan only. No educational determinations have been made for any other state, district or US territory in regards to licensure requirements.
(1)Bureau of Labor Statistics, U.S. Department of Labor, Occupational Outlook Handbook, EMTs and Paramedics, at https://www.bls.gov/ooh/healthcare/emts-and-paramedics.htm (visited December 22, 2021).