A passion to provide direct care to others could be used to enjoy a career as a Patient Care Technician. You might be wondering, what is a patient care technician? If you choose to pursue this path, you could work in a variety of medical locations as a Patient Care Technician. In addition, you could also work with a broad range of healthcare professionals and patients. For example, you might support private physicians, registered nurses, licensed psychiatrists, and physical therapists and Patient Care Technicians have been known to work with various patient populations from infants through the elderly.
Pursue a career as a Patient Care Technician and you could work in medical facilities like hospitals, nursing homes, and treatment centers. According to the National Healthcareer Association, a growing aging population could increase the need for more Patient Care Technician jobs.
Types of support a Patient Care Technician offers include administering medical supplies, conducting routine safety checks, working with catheters, and drawing patient blood for laboratory tests. Similar to Nursing Assistants and Orderlies, Patient Care Technician jobs fulfill basic care needs of patients.
Becoming a Patient Care Technician
In addition to completing on-the-job training, some employers may prefer that you complete a training program. Patient Care Technician training that you receive should cover basic medical procedures and care functions that are required in real life situations. Training might focus on recording vital signs, getting EKG records, repositioning children and adults in medical beds, and feeding patients. Another training component could include an externship at a local hospital to allow a student to apply the knowledge and skills they have learned throughout the program.
Good communication and problem solving skills are key to succeeding as a Patient Care Technician or similar jobs titles that a Patient Care Technician will work under. So too is patience and understanding. After all, there may be instances when patients may share information with a Patient Care Technician before they reveal the same information to their nurse or physician. This is just one situation when communication and understanding are key.

Pay and Job Growth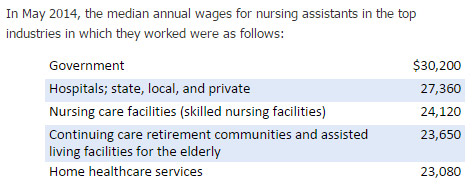 The answer to how much a Patient Care Technician can make depends on a number of different factors, including the part of the country that a Patient Care Technician works in, if a Patient Care Technician has obtained certification, and the particular industry that a Patient Care Technician works in, etc.
For example, The Bureau of Labor Statistics shares that nursing assistants and orderlies (positions that can be filled by Patient Care Technicians) earned a median annual income of $25,090 as of 2014. Jobs for these healthcare careers are expected to grow by 17% from 2014 to 2024. a
The Bureau of Labor Statistics goes on to state that these healthcare support assistants earned a median annual wage as high as $27,610 for Nursing Assistants and $26,110 for Orderlies in Michigan as of May 2014. b

Below we've included a chart from the Bureau of Labor Statistics that provides info on the Median Annual Wages for Nursing Assistants and Orderlies throughout the country.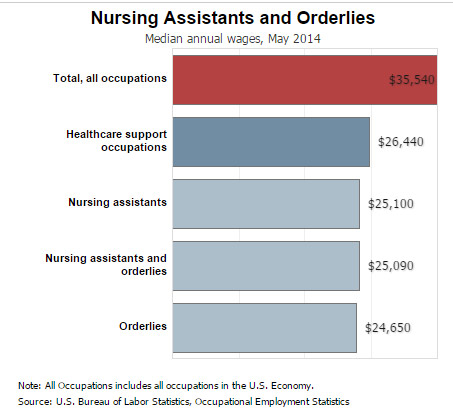 By challenging a certification or licensing exam as a Patient Care Technician, you could position yourself to take on more challenging processes and procedures, potentially increasing your hourly and annual wages. Staying abreast of changes in patient care and volunteering to assist other medical professionals as needed are other ways that you could keep your career moving forward.  With any position, it's always important to check the requirements and qualifications of the role to see if certain jobs or employers require candidates to be certified or licensed.
Instructors at our Dorsey Schools' Patient Care Technician program are ready to answer your questions. Dorsey Schools' Patient Care Technician diploma program provides you with career training that can prepare you to care for patients in healthcare settings like hospitals.
Contact us to learn more about our Patient Care Technician program today! During the program, students receive classroom instruction, hands-on training opportunities, and an externship component at the end of the program. Campus locations in Michigan where our Patient Care Technician training is offered are Dearborn, Madison Heights, Roseville, Southgate, Waterford-Pontiac, and Wayne.
Skilled and experienced instructors at our Dorsey Schools campuses provide training in infection control, patient care, medical terminology, and additional procedures that impact standard, acute, and long-term care.  Contact us today to speak with one of our experienced admissions representatives.
Let us help you with your Patient Care Technician training goals. Call us at 1-888-422-1188 or request info online today to learn how our team can help provide you with important Patient Care Technician training, knowledge, and medical skills.
For more information about our graduation rates, the median debt of students who have completed the program, and other important information, please visit www.dorsey.edu/disclosures.
Sources: