The start of the 2020's has been a time of extreme change. With the pandemic everyone has experienced some sort of change in the last year. But change can be positive too. In times of change it's typical for people to start rethinking the way they have been living. Maybe you find yourself ready to make a change in your life.
In 2021 a lot of people are making career changes. If you find yourself considering making a career switch you might want to consider the healthcare field.
Why?
According to the US Department of Labor, Bureau of Labor Statistics, Employment in healthcare occupations is projected to grow 16% from 2020 to 2030, which is much faster than the average for all occupations, adding about 2.6 million new jobs ¹. It's also a solid, stable field with many different careers within it.
That last part about the different careers in healthcare is important. You might be thinking you don't want to go to school for years or work around blood like nurses and doctors do. But the healthcare industry includes many professions besides nurses and doctors. Like being a medical billing specialist. This article is going to focus on why becoming a medical billing specialist could be the career change you have been seeking!
Reason 1: You're detail oriented, like talking to others, and are a problem solver 
A lot of the skills required for medical billing can be learned through proper training. But to avoid having a job that clashes with your personality, you probably want to review what a medical billing specialist actually does. Then you can see if your personality matches the requirements. Here are some traits you'll want to have to be a medical billing specialist
Organized – Medical billing specialists do a lot of filing. They also are in charge of keeping track of claims. Insurance claims are how the healthcare practices get paid so it's crucial claims are organized. Organization is also important for working in an office setting. We'll discuss that more soon.
Detail Oriented – Insurance claims must be filed precisely. If not, they may be rejected which can cause a lot of headaches for everyone involved in medical billing, even the patients (not to mention, delays in the process).
Problem Solver – Lots of hiccups can occur during the medical billing process. An ideal candidate would be quick to pick up on problems and able to work on solving them. Being able to fix claims and other mistakes is a must.
Talker– Medical billers do a lot of talking. They talk to patients, healthcare providers and insurance companies. They communicate over the phone, email and in person. In order to ensure billing runs smoothly you must be comfortable with talking to people.
Reason 2: You're open minded about your work environment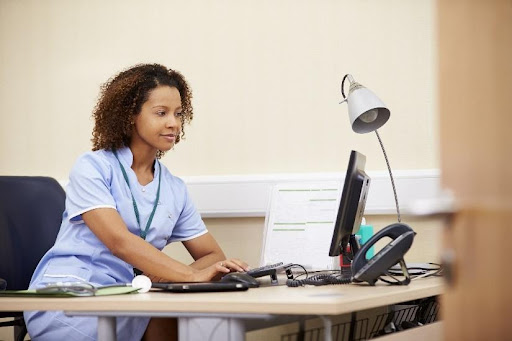 As a medical billing specialist, you may have a variety of potential workplaces to choose from. Every single healthcare practice needs to process medical bills. Some chose to do so on-site, others outsource it meaning your work environment depends on where you work.
Often medical billing specialists work in offices within healthcare facilities. These include doctors' offices, clinics and hospitals. Medical billers also commonly work for health insurance companies or medical billing companies.
Especially due to the pandemic, some medical billing jobs may even be remote "work-from-home" positions. This varies by employer and position.     It does mean that there is some flexibility in the work environment for this career.
Reason 3: Training to become a Medical Billing Specialist is FAST!
Becoming a medical billing specialist doesn't take 4 years of school or even a degree. There are a variety of training programs specifically for medical billing specialists. These programs can usually be completed in a year or less.
A training program can help you prepare for your career so you can get employed quicker. While training is not required in every state, it is always preferred. During training you can learn computer software skills and medical terminology that will give you a head start in the field.
Training programs can also help you become a more well-rounded person, honing both technical skills and soft skills. You can develop better communication skills as well as learn tips and tricks for being organized and efficient. You might even find yourself becoming a better person overall.
A career change can be very rewarding. Since we're all dealing with change, right now is a perfect time to consider training for a new career. This article touched on the benefits of choosing a new career in healthcare, specifically as a medical billing specialist. If becoming a medical billing specialist interests you, be sure to read below about possible first steps.
If you want to pursue a career in the growing field of healthcare, but don't think medical billing is your thing, click here to explore some other healthcare career paths.
The Dorsey College Medical Administration and Billing program
The Dorsey College hybrid Medical Administration and Billing program teaches real world skills that are used in the medical billing profession.
You'll have the opportunity to learn electronic health records (EHR) software that are commonly used in medical facilities.  You may also learn medical coding systems using CPT, ICD-9-CM, ICD-10-CM, and HCFA terminology.
The program will also expose students to medical terminology, anatomy, and physiology.
The Dorsey College Medical Administration and Billing program is delivered in a hybrid environment, which means you'll have some of your classes at a Dorsey College campus while other classes will be delivered online via distance education.
Choosing Dorsey College is a great way to start pursuing your career as a medical billing specialist.  Learn more today!
Sources