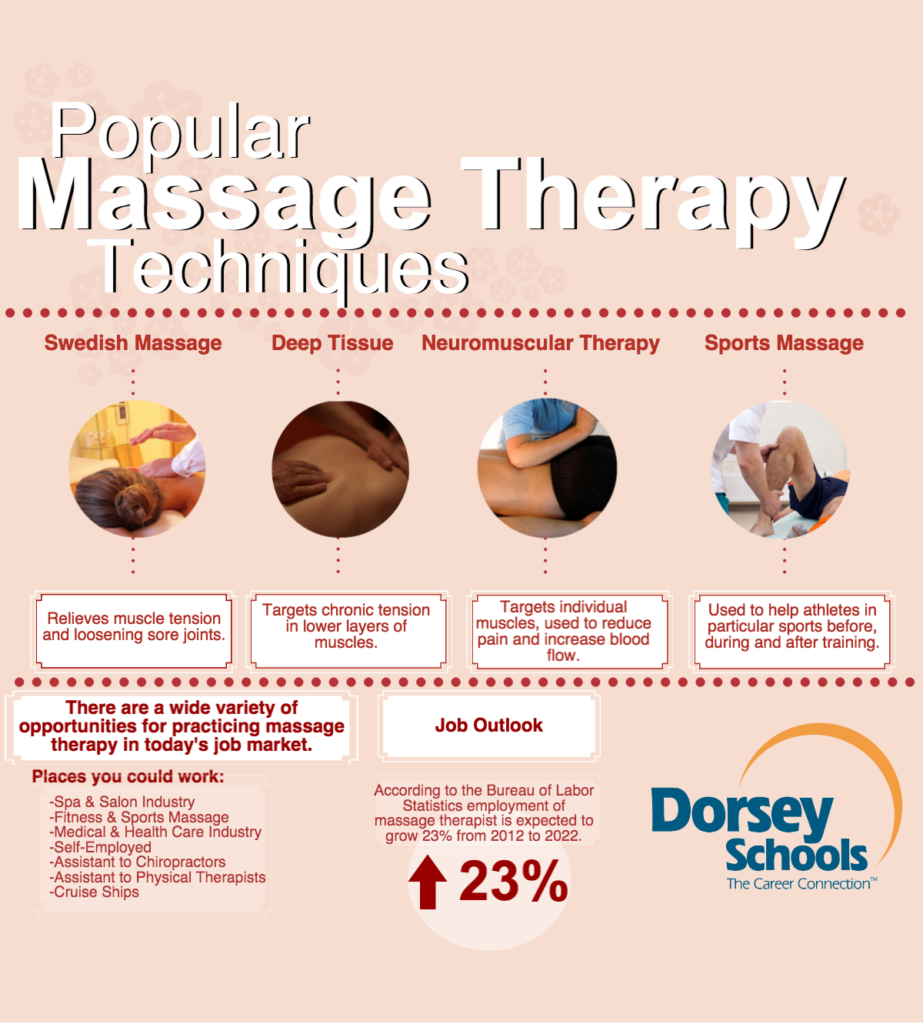 Job Outlook Data:  Bureau of Labor Statistics, U.S. Department of Labor, Occupational Outlook Handbook, 2014-15 Edition, Massage Therapists, on the Internet at http://www.bls.gov/ooh/healthcare/massage-therapists.htm (visited March 16, 2015).
Massage therapy can be an exciting career path to choose, because you can help people in meaningful and beneficial ways and contribute to their health and well-being. There are more than 80 types of treatments within the massage therapy field, each of which require specific skills and techniques. Some of today's most popular techniques in massage therapy are Swedish, Deep Tissue, Neuromuscular, and Sports massage.
Swedish Massage –is the most common and well-known type of massage. As a rule, Swedish is the preferred method for people who don't get massages on a regular basis. The main techniques of the Swedish table massage are designed for treating muscle tensions and aches. Swedish massages generally last up to an hour, where the licensed massage therapist works on the back, legs, arms, shoulders and neck of a patient.
Deep Tissue Massage – is very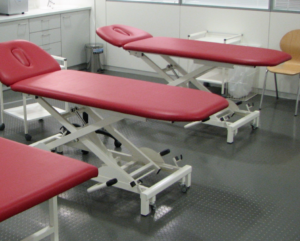 similar to Swedish massage, as both techniques use many of the same movements and techniques. Deep Tissue massage, however, involves greater pressure to help relieve chronic muscle tension, knots and stress. Studies have shown that these benefits can have a positive effect on lowering blood pressure. Massage therapists tend to use a slower technique than that which is used in Swedish massage, along with more methodical strokes that emphasize the tissues that are deep under a patient's skin and muscles.
Neuromuscular Therapy (NMT) – is considered the most effective type of massage therapy to help reduce both lower back pain and muscle pain. Massage therapists apply techniques that require use of fingers, knuckles, and elbows, with a focus on alternating levels of pressure to areas of the patient's muscle spasms. After the muscle is relaxed through this technique, the lactic acid will be released from the muscle, allowing it to receive enough blood and oxygen.
Sports Massage – is designed
to help certain muscle systems that are active in a particular sport. Massage therapists who work in Sports massage help athletes during their training (which can take place before, during and after a sporting event) in addition to healing any muscle injuries. Massage therapists who work in this particular field can work in a variety of settings and events that include marathons, track meets and training rooms, among other places.
The Massage Therapy diploma program at Dorsey Schools can provide you with a solid foundation in anatomy, physiology and pathophysiology. These form the basis for training in specific massage techniques which include the four styles discussed above. Graduates of this program have the opportunity to prepare for an entry-level position in the massage therapy field. Successful completion of this program meets the approved curriculum requirement needed to apply for licensure in Michigan. This program's curriculum is also geared to prepare students for the Massage & Bodywork Licensing Examination (MBLEx).
Massage Therapy in the state of Michigan.
Massage therapists are required to obtain a license to work in the State of Michigan. All applicants for a Massage Therapy license in Michigan must have completed a supervised curriculum in massage therapy that has been approved by the Michigan Board of Massage Therapy. The Massage Therapy program at Dorsey Schools is an approved supervised curriculum by Michigan Board of Massage Therapy.
Once licensed, graduates are able to pursue a wide variety of jobs. These include private practice, or massage therapist positions in hospitals, athletic teams, on-site spas or salons. Additionally, massage therapists can assist physical therapists or chiropractors (and even on cruise ships!).
For more information about our graduation rates, the median debt of students who completed the programs, and other important information, please visit our website at https://www.dorsey.edu/disclosures.