This is probably not the first time you've ever heard that the healthcare field is one of the fastest growing industries. The reason for this increase in healthcare-related jobs is due to the extended longevity of an aging population, which requires all types of positions in health and medicine. If you are considering working toward a career in the healthcare industry, an allied health profession may be the right choice for you.
Allied Health Professions
Allied health professions are healthcare positions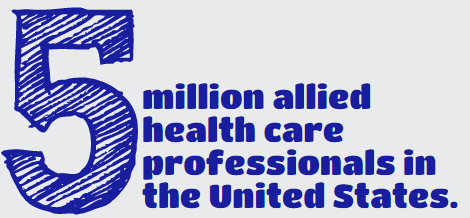 which are distinct from nursing, medicine, and pharmacy. There are about five million allied health care professionals in the United States, which comprises nearly 60% of the healthcare workforce. There are hundreds of different allied health professions that people aspire to, but one of the most popular and sought after positions is that of medical assistant.
What Do Medical Assistants Do?
Medical assistants work alongside and directly for physicians in outpatient and ambulatory care facilities, such as health clinics and hospitals, as well as offices of physicians, podiatrists, and chiropractors, among many other types of health practitioners.
Medical assistants are responsible for a wide variety of tasks. Medical assistants handle both clinical and administrative functions. The duties and responsibilities of a medical assistant may vary from office to office, depending on the size, location, and specialties of the particular facility. Medical assistants often work full-time or 40 hours a week, while some work nights and weekends. If you find yourself to be flexible, service-oriented, and dedicated, medical assisting may be the ideal career choice for you.
Daily Tasks/Responsibilities:
Clinical Tasks/Duties
Preparing patients for examinations and taking medical histories.
Explaining treatment procedures to patients.
Assisting the physician during exams.
Collecting and preparing laboratory specimens.
Performing basic laboratory tests.
Instructing patients about medications and special diets.
Drawing blood.
Taking electrocardiograms.
Administrative Tasks/Duties:
Operating computer applications.
Answering telephones and scheduling appointments.
Updating and filing patient medical records and insurance forms.
Arranging for hospital admissions and laboratory services.
Handling correspondence, billing, and bookkeeping.
The good news for aspiring medical assistants is that the healthcare industry requires them to have relatively little formal training (compared to other jobs in this field). One great thing about medical assisting is that it is a career choice which offers many opportunities for finding entry-level positions in the medical field. Additionally, it can be used as a stepping stone for those who want to further their medical careers, whether that means to continue training to become a registered nurse, physician's assistant, or for going into any particular specialization. Because training to become a medical assistant is relatively shorter than for most other healthcare jobs, it is important to note that it may be difficult to stand out from other applicants. A great way for students to make themselves stand out is by participating in volunteer work, which they can put on their resumes. Volunteer work does not have to take up a person's whole life, but it will help boost up their resume on job interviews.
Job Outlook:
Healthcare is one of the fastest growing industries, and medical assisting is one of the fastest-growing careers in the United States. According to the Bureau of Labor Statistics, the number of medical assistant jobs is expected to grow by 29% from 2012-2022, which is faster than average for many other occupations in the U.S. Hourly wages or salaries for medical assistants often depend on location and experience.
The Road to Becoming a Medical Assistant
Choosing to become a medical assistant is one of the fastest ways to break into the medical workforce in a timely manner. Career training, such as the Medical Assistant Program at Dorsey Schools, will have you ready for an entry-level position as a medical assistant.
Medical Assistant Program at Dorsey Schools
Students in the Medical Assistant Program at Dorsey Schools in Michigan have the opportunity to acquire a combination of specialized clinical and administrative skills that are necessary for employment in a medical office, clinic, hospital, or another healthcare facility. Students also participate in an externship, which will give them opportunities to gain real life industry experience, confidence and professional exposure in the medical field before graduating. Graduates of this program may go on to further advancement in the medical field by becoming a certified medical assistant. For those interested in earning their certification, a one-time fee to sit for the certification examination to become a certified medical assistant is included in Dorsey Schools' Medical Assistant Program.
One of the most important takeaways from programs like this is the hands-on clinical experience that is offered. Students will participate in lectures about the curriculum, and minutes later they could be practicing what they've been talking about in class on the same day.
For more information about our graduation rates, the median debt of students who completed the programs, and other important information, please visit our website at https://www.dorsey.edu/disclosures