If you're the type of person that likes to fix things, pursuing a career in the skilled trades may be right for you. If you clicked on this article you are probably interested in becoming an HVAC technician. If so, you might be wondering what the day-to-day is like for a HVAC tech. What type of jobs do they go to? What type of tools do they use?
While the type of jobs HVAC techs respond to varies, there are some commonly used tools among HVAC technicians.  Read on to learn what these tools are, how they work and what they do.
*It's important to note that technicians likely use far more HVAC tools than the five we list below.  We're just talking about some of the most commonly used HVAC tools today.
Digital Multimeter
A digital multimeter is used to measure a variety of electrical values such as volts, amps and ohms. It typically looks somewhat like a plastic calculator with a dial in the center and two cords on the bottom.
They're used in HVAC for testing live circuits and troubleshooting electrical components while following system diagrams.
Because it is a measuring tool it is used by plugging the multimeter in and then attaching it to the electrical source. The digital screen will then read a measurement in volts, amps or ohms.
A/C Manifold Gauges
Manifold gauges are red, yellow, and blue and are a pressure checking system. They are an extremely common HVAC tool because they can be used both as a measuring tool and a service tool.
As a measuring tool, manifold gauges measure refrigerant pressures on the low and high side of an HVAC system. The tool also measures hg or inches of mercury meaning below atmospheric pressure.
As a service tool, the manifold gauge can be used to release sludge and contaminated refrigerants.
This tool analyzes the A/C cooling properties to help with troubleshooting and to make sure the system is working properly.
Nut Drivers
Nut drivers look like a common screwdriver except they usually have a hollowed end. This is because Nut drivers are used to tighten and loosen nuts and bolts. Nuts are fitted on shanks so they have a wideness to them, hence the nut driver's shape.
Nut drivers drive in sheet metal screws and other common fasteners in the HVAC field. They are commonly used for opening up electrical panels, fastening parts inside of equipment and securing and installing ductwork.
In the HVAC field the most common sizes used are ¼ and 5/16.
Nut drivers are used in different ways such as screwdriver type use or as drill bits for impact drills for fast and effective work.
Aviation Snips
Aviation snips kind of look like powerful, but oddly shaped scissors. The basic idea behind this tool is the same as scissors. Their name comes from the aviation industry where they were used primarily to cut sheet metal.
In HVAC aviation snips are used for the same thing: to cut sheet metal, usually for ductwork fabrication. This tool can also cut through other metals and materials if necessary. They're commonly used in return duct attachment and to cut metal fasteners to length.
While easy to use like scissors, error on the side of caution when using aviation snips, they, and the material they cut, are extremely sharp.
Tape Measure
You most likely know what a tape measure is. You might not have known how important and common tape measures are in the HVAC field though. All measurements in HVAC need to be accurate for installation of equipment and accessories including ductwork.
Tape measures can provide the very precise measurements needed for the HVAC field such as
-Sheet metal fabrication
-Equipment width/length and height
-Heating and cooling calculations based on square footage
If you're living in the Metro Detroit area and interested in an HVAC tech training program, Dorsey College could be perfect for you.
Offered at the Roseville and Wayne campuses (both branch campuses of Madison Heights), the Dorsey College HVAC Systems Technician training program focuses on workplace skills and the HVAC basics.
One neat thing about the Dorsey College HVAC Systems Technician program is that a tool kit is included with tuition. This tool kit includes all of the tools mentioned in this blog and more. The tool kit has an estimated worth around $500-$800 dollars. In the HVAC field having your own tools is important. The toolkit provided with the Dorsey College program literally gives you tools to start your career in the HVAC field.
This HVAC Systems Technician program focuses on teaching skills that will allow students to pursue their EPA Universal Certification.
For more information, click here for our HVAC Systems Technician program page.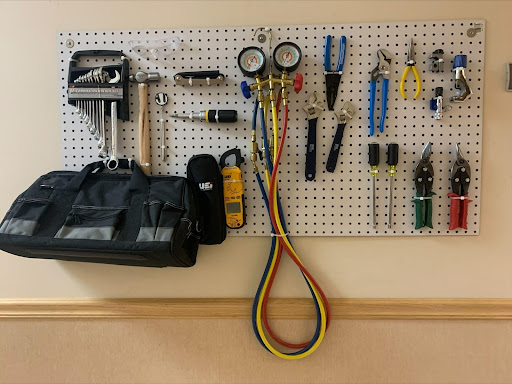 Sources
Kuhlman, Jesse. "How to Use a Digital Multimeter." WikiHow, WikiHow, 9 Sept. 2021, https://www.wikihow.com/Use-a-Digital-Multimeter. 
"Nut Driver." Wikipedia, Wikimedia Foundation, 8 Dec. 2020,     https://en.wikipedia.org/wiki/Nut_driver.