Feel that chill? If you're inside your house, that chill is not a good thing! Now is the time to winterize your home so you can be prepared for the cold that is sure to come to Wayne, Michigan, and throughout the state in the coming months. Winterizing your home can protect the pipes from bursting, can reduce your heating cost, and can help make you and your family more comfortable during the cold Michigan winter! Some common winter tips for your home include making sure all of your air filters are clean, your water pipes are insulated, and your windows are sealed tight. You also need to check for sources of potential heat loss in your home, so you won't have to fire up that furnace quite so much. Although these tips sound simple and obvious, you might be wondering how to winterize your home sufficiently.
Weatherizing your home for winter should focus in large part on keeping heat in and cold out. Check for drafts under doors and, if necessary, block the incoming air with a simple "draft snake," according to Popular Mechanics. Tips for winterizing windows, a critical part of insulating your home, include installing storm doors, which "can increase energy efficiency by 45 percent by sealing drafts and reducing air flow," and storm windows that close tightly.
You may not need to run the furnace as much when your home is well-insulated, but you will most certainly be needing it when colder weather arrives. Be sure your heating system is operating efficiently! You will stay warmer and likely save money on heating costs. Popular Mechanics estimates that taking the time to prepare your furnace for winter by keeping it "clean, lubricated and properly adjusted can reduce energy use, saving up to 5 percent of heating costs."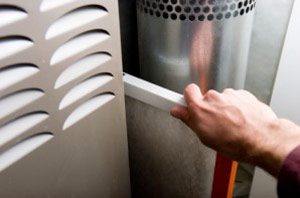 When the temperature dips below freezing outside, your home's water pipes are also susceptible to freezing conditions if they are not properly insulated. Wrapping pipes in a type of foam that is pre-formed to fit and that is made especially for protecting pipes against freezing temperatures can help ensure they will not burst in the coldest weather.
Writing and following a checklist for winterizing your home can help ensure you get all the tasks completed before the cold winter weather sets in. Take these steps to winterize your home now and you'll be more likely to enjoy a comfortable, warm home this winter!
Students who train at Dorsey Schools, in the HVAC Systems Technician training program, have the opportunity to learn many skills that can help with the tasks necessary to winterize a home! Students enrolled in our HVAC Systems Technician training program at Dorsey Schools will have the opportunity to study maintenance, inspection, troubleshooting and the repair of related equipment. In this comprehensive program, which provides the opportunity to learn through class work and an externship, students can gain knowledge of the practicalities and technicalities of cooling and heating systems.
Reviewed and edited 12/6/17