In 2004, the American Heart Association launched the "Go Red For Women" initiative, which is designed to raise awareness about heart disease and stroke as the number one killer of women and to empower women to take charge of their heart health.
In support of Wear Red Day (Friday February 5, 2016), several Dorsey Schools campuses hosted their own "Wear Red Day" on Thursday February 4th.  Check out the pictures from our campuses that took part in Wear Red Day on our Facebook page!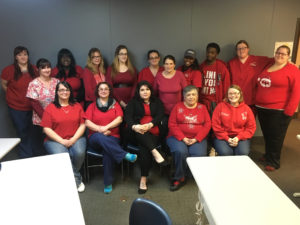 Wear Red Day
Here's some additional info on the origin of Wear Red Day and the Go Red For Women campaign:
The goal of the Go Red For Women campaign is to raise awareness about heart disease among women, encourage women to know their risk factors (and work towards reducing them), and provide tools needed for women to love a heart-healthy life.
In 2003, the National Heart, Lung, and Blood Institute (NHLBI) introduced the red dress as the symbol for women and heart disease awareness.
All proceeds raised as part of local and National Go Red For Women activities are used by the American Heart Association to support research, awareness, education, and community programs to benefit women.
Because of the Go Red For Women campaign, more than 2 million women have taken a very important first step by learning their personal risk factors for developing heart disease through the Go Red Heart CheckUp.
Here at Dorsey Schools, we salute all those participating in the fight against heart disease and encourage everyone to be heart healthy not only during National Heart Health month, but on a daily basis!
For more information about our graduation rates, the median debt of students who have completed the program, and other important information, please visit www.dorsey.edu/disclosures.