It's the season of giving, and here at Dorsey Schools, our students, staff, and faculty have been bitten by the holiday bug!  Everywhere you turn, Dorsey campuses are working to make the holidays a little brighter for others this year.  We are so proud of all the great things our campuses have been doing, and wanted to share some of them here with our larger community.  Check out the details below!
Southgate, MI Campus
Our Southgate campus has been very busy this holiday season!  The Student Ambassadors (check out the pics of them here) held jeans day fundraisers in the month of November and proceeds went to benefit Gleaners Food Bank.  In December, the Ambassadors repeated their fundraisers and those proceeds were donated to Toys for Tots – great job, Southgate campus!  With the holidays upon us, the Southgate campus also has a "mitten tree" in place to collect gloves, scarves, and blankets for a local homeless shelter.  It warms our hearts to see and hear about all of this generosity from our students Downriver and we know they will make an incredible difference in the lives of others this holiday season!
Dearborn, MI Campus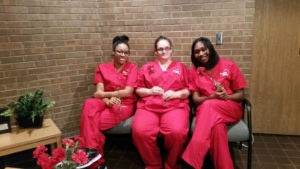 Not far from our Southgate, MI campus, our students and staff at the Dearborn, MI campus are partnering with Volunteers of America to Adopt a Family within their zip code.  The campus has a tree placed in the lobby where gifts and gift cards can be placed for the family being sponsored.  Great job, Dearborn team and thank you for helping those in need this holiday season!
Dorsey School of Beauty Campuses in Taylor, MI; Roseville, MI; and Lansing, MI
Our Dorsey School of Beauty campus locations are doing their part this holiday season to help give back to Toys for Tots as well.  The student salon offered patrons the opportunity to bring in a new, unwrapped toy for Toys for Tots this holiday season, and in turn, they could receive 25% off their salon services through December 18th.  It's hard to beat the look on the face of a child that lights up after receiving a new toy during the holiday season, and we commend our School of Beauty campuses for helping Toys for Tots this year.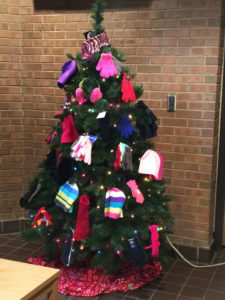 Lansing, MI Campus
This year, Student Ambassadors at the Lansing, MI campus are coordinating a collection of Toys for Homeless Angels, a local organization.  "Santa's Helper List" includes Board Games, Dolls, Blocks, Legos, Cars & Trucks, Coloring Books & Crayons, Balls (Footballs, Basketballs, etc.) and more that can be donated to help make a local child's Christmas a bit more special.  Toys were collected in December and the Student Ambassadors will be delivering the donated toys to Homeless Angels on 12/18.
Madison Heights, MI Campus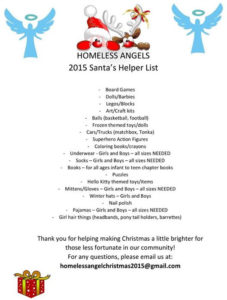 The Student Ambassadors at the Madison Heights, MI campus have been working hard this holiday season to gather donations for the new Troy Detroit Medical Center children's hospital slated to open early 2016. The project started as a means to gather small items such as toys, art materials and fun bandages but it evolved over time and the group is now committed to pooling their funds together to purchase a larger item for the hospital.  As it stands now, the team plans to purchase a gaming system such as a Play Station 4 or a Kindle for children to use during long stays at the hospital.  The campus will be hosting jeans day fundraisers in December to help cover the cost of the gift and this will be delivered in early 2016.  Great job, Team Madison Heights, and thanks for helping give back to our local community!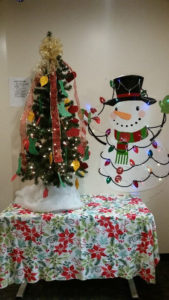 Saginaw, MI Campus
Our Saginaw, MI campus is adopting a family through the Underground Railroad, a local organization dedicated to helping victims of domestic violence, stalking, and sexual assault.  The campus has a sharing tree that is placed near the front door and will be used as to collect donations in December.  The kindness and generosity of our students and staff never ceases to amaze us!
Roseville, MI Campus
Our Roseville, MI campus is also doing their part to give back this holiday season.  The entire campus is conducting a food drive to benefit Forgotten Harvest.  Items will be collected through December 18th and then delivered to the organization shortly thereafter.  The Roseville, MI campus will also be assisting Giftmart, a community event that raises money and toys for needy families in Macomb County.  This event is in collaboration with other organizations in Macomb County (Macomb Community College, Hope Center, The Woods Church).  Select families are invited to attend the event on December 12 to shop for their kids and provide them a nice Christmas.  The campus held jeans day fundraisers to raise $150 that was donated along with several toys to help with the Giftmart event.
Farmington Hills, MI Campus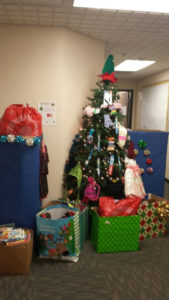 Our Farmington Hills, MI campus contacted the South Oakland Shelter and got a list of the Top ten items they need at their shelter this holiday season. The campus put up a holiday tree along with donation boxes around the tree. In just a matter of days, the donations began to come in and the boxes started filling up – so much so, the campus had to add more boxes!  Special thanks to Ms. Thomas for coordinating this effort and the entire Farmington Hills campus community for their generosity.
Dorsey Schools Corporate Office
Staff members at our Corporate Office also came together to help the South Oakland Shelter this holiday season.  Various items were collected to donate to the organization in early December in an effort to help members of our local community enjoy the holidays a bit more this year.
For more information about our graduation rates, the median debt of students who completed the program, and other important information, please visit our website at www.dorsey.edu/disclosures.