Welcome to Spotlight!  We will feature Dorsey Schools' students, graduates, staff members, and others here from time to time to highlight their hard work and achievements.
Today we would like to introduce you to Ratorysean.
We sat down and spoke with Mr. Clark, the Lead Instructor for the Electrical Technician program at the Dearborn campus, and he cited a quote from Vince Lombardi, "The price of success is hard work, dedication to the job at hand, and the determination that whether we win or lose, we have applied the best of ourselves to the task at hand."  Mr. Clark went on to say, "This quote describes Ratorysean, he's a dedicated student that will continue to grow in wisdom and knowledge of the electrical field. He is focused and determined to be the best at whatever he does. Ratorysean is one of our winners at Dorsey Schools."
Here's a little more about Ratorysean: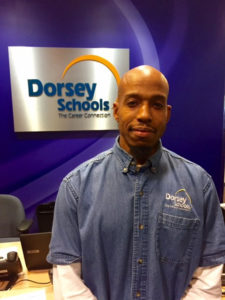 Name:  Ratorysean W.
Dorsey Schools Campus:  Dearborn, MI
Program of Study:  Electrical Technician
Anticipated Graduation:  March 2016
What brought you to Dorsey? 
"I saw the commercial and went to the website."
How/why did you select your specific program of study at Dorsey?
"Electrical is what I always wanted to do and know all about."
What is/has been the best part of your experience studying at Dorsey?
"The best part is the hands on labs, the theory, and all the information."
What has been your favorite class in your program thus far?  Why has it been your favorite?
"So far my favorite class has been basic controls because it deals with relays and ladder diagrams which is very important to understand in this field."
What advice might you give to someone sitting at home who is thinking about studying at Dorsey, but they are unsure if they can do this?
"You never know what you can do til you try.  Call the school come in take a tour.  Nothing is as hard as you might think."
What advice might you give to a friend or classmate currently studying at Dorsey who is struggling and thinking about giving up?
"Really push yourself and don't give up on the future you want for yourself and your family."
Congratulations, Ratorysean on all of your hard work thus far.  We look forward to celebrating many more successes with you in the future!
For more information about our graduation rates, the median debt of students who have completed the program, and other important information, please visit www.dorsey.edu/disclosures.