Eastern Market in Detroit, MI is known as one of the place to be for fresh and local ingredients and dishes. Dorsey Culinary Academy, in partnership with edibleWow magazine, will be facilitating some cooking demos at Eastern Market. Come visit Eastern Market this Saturday August 11th. You can experience all that Eastern Market has to offer along with checking out these cooking demos. Can't make it this weekend? No problem! Below are the three recipes that will be demonstrated this weekend, these dishes are perfect for entertaining or even for a special weekend dinner. Enjoy!
Jacks Michigan Carrot Hummus (Yields 3 Cups)
Ingredients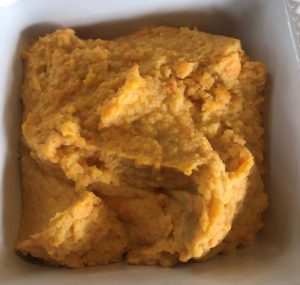 ½ small white onion (Approximately. 4 ounce after peeling)
Two boxes (13.4 ounce each) Jacks butter Beans drained
5 ounce Michigan carrots – (about 3 ea.) – peeled and chopped
1 ½ Tablespoon Tahini paste
2 Tablespoons fresh chopped garlic
1 Tablespoon & 1 teaspoon fresh lemon juice
1 Tablespoon lime juice
¾ teaspoon toasted ground cumin
½ teaspoon toasted ground coriander
1/8 teaspoon ground curry
2 teaspoons fresh chopped parsley
4 oz. olive oil
½ teaspoon fresh ground ginger
¼ teaspoon paprika
1 Tablespoon kosher salt (For a real treat use only 1 teaspoon Kosher salt and replace the rest with Falksalt – Crystal Flakes – Natural sea salt – Lime flavor
Preparation:
Peel and dice carrots ¼ x ¼" and cook in boiling salted water for 6 minutes.
Add the drained Butter Beans, diced onions, and chopped garlic and simmer until the beans are hot or about 2-3 more minutes.
Drain all the cooking water and place bean mixture and carrots in food processor; pulse 1-2 times.
Add all remaining ingredients and puree until smooth.
Flambé with Streusel Topping (Yield 3 Cups)
Ingredients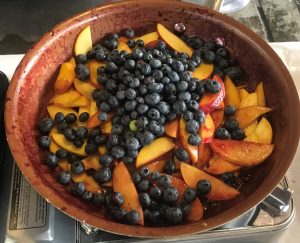 Flambé Ingredients
2 ounces of butter
2 tablespoons of brown sugar
3 cups of seasonal fruit of choice
1/4 cup of alcohol 80 proof plus (brandy, rum, tequila, maybe mix with some triple sec)
Touch of salt
Streusel Ingredients 
3 ounces of butter
1/4 cup of brown sugar
1 cup of flour
1 teaspoon of cinnamon
Touch of salt
Flambé
Heat the butter to melt in a sauté pan.
Add the brown sugar until melted and dissolved. Pan should be getting hot
Add the fruit to the pan (pan should be sizzling at this point)
Add the booze to the hot sauté pan away from your face and hair.
Streusel Topping
Combine all ingredients together (mixture should form clumps)
Spread out on a sheet tray and bake at 250 degrees until golden brown
Cool and store in an air tight container
Rosemary Chickpea Hummus (Yield 3 Cups)
Ingredients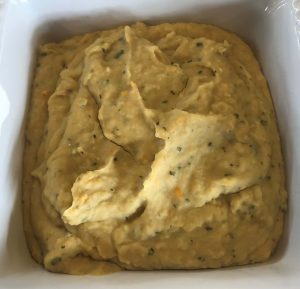 1 shallot (Approximately. 4 ounce after peeling)
2 Tablespoons fresh chopped garlic
4 oz. olive oil
5 ounce Michigan parsnips– (about 3 ea.) -peeled and chopped
2 box (13.4 ounce each) Jacks Garbanzo
Beans (drain & reserve liquid)
1 each orange juiced and zested
½ teaspoon toasted ground fennel
1 teaspoon minced rosemary
2 teaspoons fresh chopped parsley
Preparation
Sauté the shallot & garlic in the olive oil until translucent.
Add the peeled and diced parsnips cover with water and bring to a boil. Cook until the parsnips are very soft.
Add the Garbanzo Beans to the parsnips and simmer until the beans are hot or about 2-3 more minutes.
Drain all the cooking liquid and reserve
Place bean mixture in food processor; pulse 1-2 times.
Add all remaining ingredients and puree until smooth. (Adjust consistency with the cooking liquid)