In this month's edition of "The Dorsey Dish" we celebrate The Donut!
Do you Love Donuts?
National "Donut Day" will be here on June 6th, 2014! Several donut shops will be giving away donuts to help promote and celebrate the holiday. Whether powdered, filled, or topped with an endless amount of ingredients – donuts have been America's favorite deep fried "O" shaped snack for a long time, perfect for anytime of the day.
History of Donut Day
In 1938 (just four years after Dorsey Schools was founded), "Donut Day" began as a fundraiser to honor and celebrate the men and women who served donuts and coffee to U.S. soldiers in the trenches during World War I. The Salvation Army began this movement to give spiritual aid and comfort to American soldier and allies. This may be the reason why donuts are considered to be one America's most favorite breakfast and comfort foods.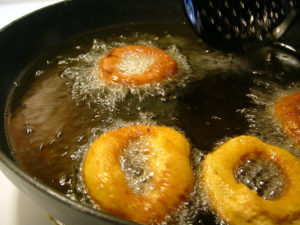 Donuts, donuts, donuts
Making donuts is probably a lot easier than you think. The process doesn't require a lot of ingredients or equipment. The great thing about donuts is that there are so many opportunities for creativity with an endless assortment of donut flavors, fillings, and toppings. Cake, raised, or yeast donuts add even more options for your culinary and baking endeavors.
Where Can I Get A Free Donut On #NationalDonutDay2014?
Krispy Kreme Donuts: Offers a free donut to everyone on Friday June 6th, with no purchase necessary. (Allen Park & Troy, Michigan).
Dunkin' Donuts: Will offer a free donut with the purchase of a beverage on "Donut Day."
Entenmann's: Celebrate with Entenmenn's by entering their National Donut Day Sweepstakes for a chance to win a year's supply of donuts and other great prizes!
Learn How To Make Craveable Culinary Creations (like Donuts!) at Dorsey Schools' Culinary Academy.Celebrate "Donut Day" by taking the first step towards a new career and learning more about what the Culinary Arts program at Dorsey Schools has to offer. Experience "The Dorsey Difference" for yourself. Dorsey Schools' Culinary Arts program provides a balanced career training program from baking to cooking. Dorsey Schools prepares students with hands-on industry specific experience whether you plan on working in professional food serving facilities in the public or private sectors. Culinary students learn by doing in both kitchen and classroom settings. (This includes making delectable treats like donuts, so you could be prepared for next year's "Donut Day"!)
For more information about our graduation rates, the median debt of students who completed the programs, and other important information, please visit our website at www.dorsey.edu/disclosures.php.