Are you fascinated by the wonderful world of baking and pastry? If so, you are in luck! Dorsey Schools recently announced some very exciting news. The Michigan-based career training school for over 85-years recently introduced a new Baking and Pastry Arts training program at its Roseville, MI campus.
Dorsey Schools has been a trusted name in career education in Michigan since 1934. Dorsey Schools also has the distinction of being the longest-standing career training school in Michigan. Over the years, Dorsey Schools has helped thousands of men and women prepare for exciting new careers in fields such as healthcare, culinary beauty, and skilled trades.
Dorsey Schools already offers a Culinary Arts program, which includes a baking and pastry component. However, the addition of the new Baking and Pastry Arts diploma program will allow those with a desire to create sweet works of art the ability to specialize in this area.
The Baking and Pastry Arts diploma program at Dorsey Schools offers hands-on career training in this popular area of the culinary field. Students in the Baking and Pastry Arts training program will be exposed to both the art and science of baking and pastry. The program can allow students to develop both their artistic and creative skills enabling them to create edible "works of art."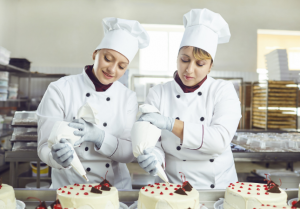 Areas of study include in the baking and pastry arts training program include:
Knife skills
Bakeshop mise en place
Nutrition
Bread making
Baking techniques used to create restaurant quality cookies, pies, custards, meringue, and frozen desserts
Pastry work such as custards, creams and sauces, tortes, entremets, petits fours, plated desserts, cakes and icings
Specialty cakes, chocolate, confections, and sugar work.
An externship is also included during the final module of the baking and pastry arts training program. The externship will allow students to assimilate the knowledge they have learned in the program into practical application in an actual culinary setting.
If you're ready to begin training for a sweet new career, the baking and pastry arts program at Dorsey Schools could be right for you! To learn more, give us a call at 888-422-1188 or you can request info online.