Training for your career in Michigan can be the first step toward achieving long-term career success. As with other rewarding life choices, a successful career is fulfilling. It's the type of career that pays you in ongoing personal satisfaction, challenging learning opportunities, and advancement potential. While you pursue career success, the following seven steps could save you time and effort. Some of the actions connect with choices that you make during career training.
7 Ways to Set Yourself Up For Success After Training For Your Career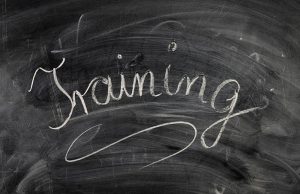 Step 1 – Make sure that career training programs in Michigan are accredited.
Accreditation is very important.  It ensures institutions of higher education meet or exceed an acceptable level of quality.
Step 2 – Choose a career that supports your personality and authentic career goals. Ask yourself questions.
For example, do you thrive in a competitive environment? Do you prefer to work in a laid-back atmosphere? Choose the right environment and you may feel so connected to your work that time flies, as Kat Peeler shares in Inc. 1
Step 3 – Set short and long-term goals.
Think about what you want to achieve from your short-term career training and your long-term career training. Opt for work that allows you to take on more responsibility for the short and long term.
Step 4 – Push yourself.
Accept volunteer roles that introduce you to leaders in the field. Raise your hand when leadership asks someone to lead a project. Also, be willing to stretch yourself, lean in and grow. Take risks.
Step 5 – Seek out a mentor.
As simple as it sounds, partnering with a mentor is a time saver. A good mentor has solid career training. A good mentor is also connected to industry or field leaders. She is aware of industry trends and is not afraid to take risks. Furthermore, a good mentor knows how to get the most out of hard and soft skills that you can gain from Michigan career training programs.
Step 6 – Gain exposure.
Attend social, charity, and learning events sponsored by the organization where you work. Introduce yourself to attendees. Let them know where you work and share your passions. Also, ask how you can help others. A lot of Michigan companies sponsor employee resource groups like young leaders and women empowerment groups. Join a resource group. But, don't just add your name to the member list. Get involved. Lead initiatives and speak up during planning meetings.
Step 7 – Keep learning.
Career training programs in Michigan may offer ongoing learning. Take advantage of these opportunities. Training for your career is a process that never ends. Especially considering how fast industries and markets change.
At Dorsey Schools, we are ready to answer your questions about how our career training programs could help you to gain the education that could lead to a rewarding career. Specific training programs at Dorsey Schools are available in medical and healthcare, culinary arts, and beauty. Dorsey Schools also offers career training in the skilled trades.
Michigan campuses where Dorsey Schools' career training programs are taught are program specific. We have knowledgeable instructors that teach at our 9 campuses. Locations of our campuses are Dearborn, Taylor, Lansing, Madison Heights, Roseville, Saginaw, Southgate, Waterford-Pontiac, and Wayne. Each campus is conveniently located near public transportation, major roadways, or shopping centers. Hands-on training and an externship are built into several of the programs. Contact us today to speak with one of our experienced admissions representatives.
Let us support your Michigan career training goals. We're ready to help answer questions that you may have about choosing a career. Call us at 1-888-422-1188 to learn how our experienced team can help provide you with important career training.
Dorsey Schools Training Programs – Gainful Employment Disclosures
For more information about our graduation rates, the median debt of students who have completed our Michigan career training programs, and other important information, please visit www.dorsey.edu/disclosures/.
Resources:
1  http://www.inc.com/jeremy-goldman/8-steps-for-success-in-your-dream-career.html