Computer Software Specialist Training Program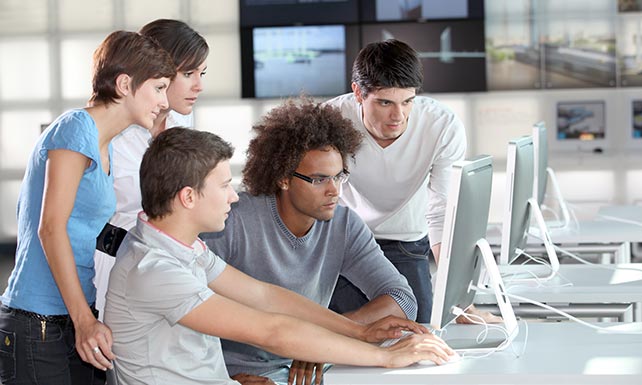 Computer Software Specialist Training Program
Please note: Dorsey Schools is not accepting students into the Computer Software Specialist program at this time.
Training in this program includes:
Advanced Microsoft Excel, advanced word processing, and computer graphics training.
Computer document processing and business communications.
Microsoft Outlook, Windows and keyboarding.
Use of the Dorsey Schools' Computer Labs for courses, training and skill development.
Occupational readiness courses:

Students will participate in three courses. These will be assigned based on each individual student's assessment outcomes, aptitude, enrollment interview, and career training interests. The courses are designed to help him/her as they move toward entering their desired career field.
Course options include QuickBooks, Database Management and Fundamental Accounting.
Courses can include additional classroom training as well as externship participation, where students can apply their training in a professional setting.

Preparation for professional certification exams, which will enhance each student's training and their appeal to potential employers.
Computer Software Specialist Program
The Computer Software Specialist diploma program is ideal for individuals who are interested in advancing their computer software skills in order to thrive in various office and administrative positions in today's dynamic business environment. Over the years, technology and computer applications have transformed the way we do business and live our lives. The Computer Software Specialist diploma program was designed to provide training to students with the purpose of preparing them for four certification exams for in-demand software programs that are commonly used in an office setting. Additionally, competencies in professionalism are integrated into the entire program. The comprehensive training in this program exposes students to computer software applications and also affords them with the education that is designed to enhance business communication, writing, and interpersonal skills, while reinforcing professionalism.
Additional Program Information
Dorsey Schools will pay the cost one time for students in this program to challenge two (2) Microsoft Office Specialist certification exams as selected by Dorsey Schools, contingent upon the student meeting Dorsey Schools exam preparation requirements. A netbook computer is also included in the program tuition.
Computer Software Specialist Career Outlook
Graduates of the Computer Software Specialist program at Dorsey Schools may obtain various administrative and support roles within the business sector. Administrative and support professionals play essential roles in the overall operation of today's businesses. Students have the opportunity to enhance their computer skills, develop their professional communication skills, and take part in specialized training during the Computer Software Specialist program. By the time they graduate, they will have had the opportunity to gain the skills, knowledge and confidence they need to succeed.
If you have ever wanted to either begin a career in the business field in an administrative or support role, or enhance your current skillset with some valuable new talents and abilities – then the Computer Software Specialist program offered at Dorsey Schools may be for you.
Enroll in the Computer Software Specialist program at Dorsey Schools today and get the career training you need to become a valued member of an organization's team.