Culinary Arts / Hotel & Restaurant Mgmt
The Opportunity For A Rewarding Career in the Culinary Arts and the Hospitality Field Begins Here             
Click Here to Learn About Dorsey Catering Services!
Have you ever considered working in a culinary or hospitality related industry? If so, Dorsey Schools provides perfectly balanced career training. Professional externships are offered in combination with classroom lessons, designed to give you hands-on industry-specific experience. If food preparation is your passion, you will have the use of professional culinary equipment at your disposal in Dorsey's Culinary Arts diploma program. If hospitality is where you feel your strengths are, pursue a diploma in the hotel and restaurant management program, which includes an introduction to hotel operations, restaurant management, human resources, organizational behavior, quality customer service strategies, marketing, and the MEEC (Meetings, Expositions, Events, and Conferences) industry.  In addition, as part of the hotel and restaurant management program, you will be eligible to challenge several certification exams.
To learn more about the Culinary Arts or Hotel and Restaurant Management programs at Dorsey Schools in Michigan, call 888-422-1188 or contact us.



The Culinary Arts program at Dorsey Schools is accredited by the Accrediting Commission of the American Culinary Federation Education Foundation.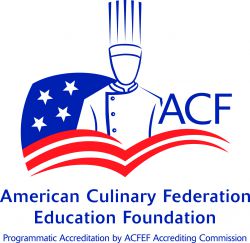 Prepare for many
entry-level food
service roles, including:
Sous Chef
Rounds Cook
Garde Manger/Pantry Supervisor
Baker
Short-Order Cook
Hot Line Cook
Food Preparation Cook
 DORSEY ADVANTAGES:
Accelerated 48-week culinary program
Preparation for National Restaurant Association ServSafe certification exam
Students are supplied with 2 chef coats, 2 chef pants, 1 chef hat, and 1 knife/kitchen tools kit and culinary textbooks at

no

additional cost or fee.
Externships for valuable on-the-job experience