Turn your passion for helping others into a fulfilling career as an emergency medical technician. At Dorsey Emergency Medical Academy, our Emergency Medical Technician-Basic training is designed to help prepare you for an entry-level EMT role in Michigan.
For Michigan residents, EMT-Basic certification is the minimum level of licensure needed to work on an ambulance. As part of your EMT training at Dorsey Emergency Medical Academy, you could learn essential skills such as the fundamentals of providing basic life support (BLS) to sick and injured patients. The Dorsey Emergency Medical Academy EMT-Basic program exceeds the US-DOT's EMT-Basic National Standard Curriculum and is approved by the MDHHS.
Dorsey Emergency Medical Academy has determined that its EMT-Basic program curriculum is sufficient to fulfill educational requirements for licensure in the State of Michigan only. No educational determinations have been made for any other state, district or US territory in regards to licensure requirements.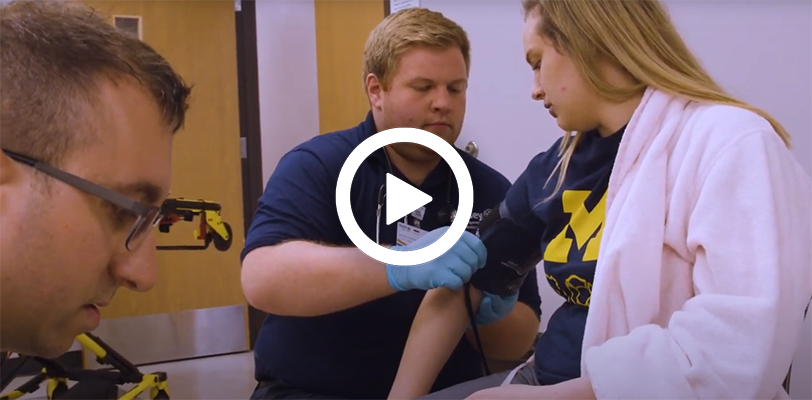 ---
EMT – Basic Training in Michigan
Dorsey Emergency Medical Academy offers the EMT-Basic training courses in Michigan at the following locations:
---
Prepare for your EMT-Basic Certification at Dorsey Emergency Medical Academy
To prepare for EMT-Basic certification, EMT students in this program are required to complete 32 hours of clinical experience, with 24 ambulance-hours and 8 emergency room-hours through training at DEMA. These unpaid clinical hours are scheduled and coordinated by the DEMA Regional Managing Director– who will provide availability, locations, and hours. As a prerequisite for EMT school, you are required to obtain immunizations to be in accordance with OSHA regulations, or proof of their prior administration.
Emergency Medical Technician-Basic Courses in this program cover topics such as:
Patient assessment
Basic airway procedures (including Combitube and King Airway)
Cardiopulmonary Resuscitation
Treatment of patients in shock
Spinal immobilization
Patient privacy (HIPPA)
And more!
The EMT courses offered at Dorsey Emergency Medical Academy fulfills the initial training for the EMT-Basic following the NHTSA National Education Standards and instructor guidelines. Upon successful completion of our EMT-Basic courses, you will be eligible to take the National Registry of Emergency Medical Technicians (NREMT) exam for EMT-B.
---
A Career you Can Look Forward to After EMT School
Throughout your Emergency Medical Technician-Basic program, you will see that there is gratification in knowing that you could have the chance to save someone's life. EMTs are needed in medical emergencies such as car accidents, acts of violence, and natural disasters. People's lives often depend on the quick reaction and competent care provided by these workers.
Emergency Medical Technicians (EMTs) are healthcare professionals who are trained to provide basic medical care with minimal equipment. It is critical that EMTs are able to quickly respond and provide medical care to patients on the scene of an emergency and while transporting patients to healthcare facilities. These workers may provide immediate lifesaving interventions while waiting for other emergency medical services (EMS) to arrive¹. Specific job duties of an EMT may vary based on the state they are licensed in, but here are some duties that could be associated with the job description of an EMT:
Respond to calls for emergency medical assistance.
Perform emergency medical care such as cardiopulmonary resuscitation (CPR) or bandaging a wound.
Assess the condition of a patient at the scene and determine a course of treatment.
Provide treatment or life support care to patients at the scene of an emergency.
Transport patients safely in an ambulance to medical facilities.
Report their observations and treatment to healthcare professionals (such as doctors and nurses).
Document medical care that is provided to patients.
Inventory, replace, and clean supplies and equipment after use².
By completing your EMT-Basic training at Dorsey Emergency Medical Academy, you could have the opportunity to exercise your passion for helping others as an Emergency Medical Technician!
---
EMT Classes in Michigan
Dorsey Emergency Medical Academy's EMT-Basic program has classes starting soon at the following locations:
EMT-Basic program classes in Madison Heights, MI
Class Starts Monday July 12, 2021
Class Starts Monday September 13, 2021
EMT-Basic program classes in Woodhaven, MI
Class Starts Monday September 13, 2021
*All classes allow for a 3-week late enrollment.  Call us today to speak with a member of our team.
Ready to make a change? Take the first step!
Requesting information requires no obligation or commitments.
---
Bureau of Labor Statistics, U.S. Department of Labor, Occupation Outlook Handbooks, EMTs and Paramedics, on the Internet at https://www.bls.gov/ooh/healthcare/emts-and-paramedics.htm#tab-2 (visited April 01, 2020).
Bureau of Labor Statistics, U.S. Department of Labor, Occupation Outlook Handbooks, EMTs and Paramedics, on the Internet at https://www.bls.gov/ooh/healthcare/emts-and-paramedics.htm#tab-2 (visited April 01, 2020)