Meet Edlisha and John: Graduates of Dorsey Schools' Medical Training Programs
My name is Edlisha Harris and I'm a Medical Assistant Graduate at Dorsey. Everyone there was a family. I'm working at Digestive Health, it's in Farmington Hills. I'm full time with benefits and I love my job! When they call my name and I walk across that stage, I'm gonna be so excited!
My name is John Wolf and I'm a graduate of the Dorsey Patient Care Technician Program. The hands-on training at Dorsey is wonderful, a lot of teachers actually go over everything with you in demonstrations and such. The fact that we got to do a lot of different things, from blood drawn to movements and everything, in general, it really prepared us for what we were going into. I can't wait to get started in my field. I actually start working the 9th of November. When I walk across the stage, I think I'm gonna be very gratified and accomplished what I set out to do and I can't wait to do more.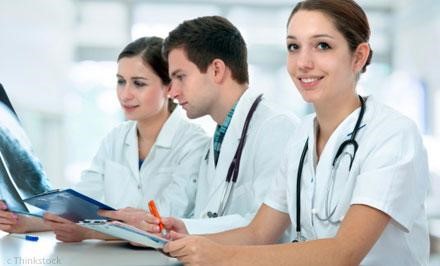 By enrolling in one of our Medical Training programs, the opportunity for a rewarding career in healthcare begins here at Dorsey Schools! As the nation's healthcare system continues to evolve, the need for trained, specialized support staff is as important as ever. At Dorsey Schools, we are committed to providing quality Medical Training to the healthcare workers of tomorrow! Most of our Medical Training programs offer a balanced curriculum of in-class lectures along with hands-on practice in our medical labs or clinical massage environment. Many of the Medical Training programs also offer students an externship component during their final module, providing them with industry experience and professional exposure in real-world occupational settings. You can train for an exciting new career in healthcare, and many programs can be completed in one year or less!
Dorsey's Medical Training Programs include:
Interested in learning more about Dorsey's Medical Training Programs? Read our blog posts about getting career training in the medical field:
Gainful Employment Disclosures
For more information about our graduation rates, the median debt of students who have completed the programs, and other important information, please click here.