Meet Yassir: A Graduate of Dorsey Schools' Electrical Technician Training Program
My name is Yassir Saleh, and I graduated from Dorsey Schools' Dearborn Campus. The best thing about studying at Dorsey Schools is good knowledge, meeting new students, and the family more than school. Hands-on is really effective which is makes you better because you take the theory on this the side and doing the hands-on this side, which is both coming together at the same point. I feel like a different person, I feel something amazing, it's worth it. It paid off all today!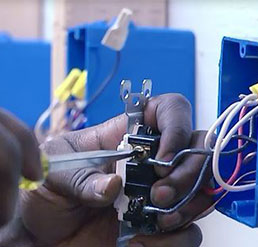 Dorsey Schools' Electrical Technician Training Program guides students along the path to becoming qualified electrical technicians. Students in this program will receive hands-on training while developing work habits and skills that are required for entry-level and apprentice positions in the electrical field.
Electrical Technician Training Program – Career Outlook
With the Electrical Technician Training Program provided at Dorsey Schools, graduates can be well-prepared to work in industrial, residential, construction, commercial, municipal, or utility settings. Positions in this field may be found with independent electrical contractors, engineering firms, home builders, physical plant maintenance crews, and other organizations with independently-maintained electrical systems.
The Electrical Technician Training Program is offered at the following Dorsey Schools campus locations:
Interested in learning more about our Electrical Technician Training Program? Read our blog posts about Electrical Technician Courses here:
Electrical Technician Program – Gainful Employment Disclosures
For more information about our graduation rates, the median debt of students who have completed the program, and other important information, please click here.