Chef Natalia Tarnavsky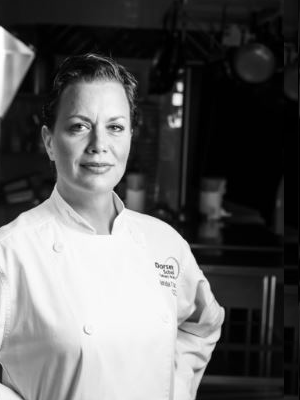 Certified Executive Chef ®
Chef Instructor
Catering Manager
B.P.S. Culinary Arts
Joined Dorsey Culinary Academy in 2012
Q&A with Chef Tarnavsky
Have you always wanted to pursue a career in the Culinary Arts?
Probably since I was about 5 years old, but it didn't make sense then, because I didn't really understand it yet; I knew that I liked to be in the kitchen and I loved making stuff in my little Holly Hobby oven that I got for Christmas, and it kind of started from there.
It didn't truly come to fruition until my late 20s.
What is your favorite kitchen equipment or gadget?
It probably has to be an immersion blender. I like to puree things and it's basically this wand that you can use to puree chucky items instead of putting them into the food processor.
What are your favorite foods to make or ingredients to cook with?
I really love to work with shellfish, and I also love to work with red meat: everything from beef to lamb. I love grilling, so any chance that I get (even in the wintertime) I'm throwing stuff onto the grill (even if its crab legs and lobster tail). I've been known to grill in the polar vortex, wearing my boots and hat.
What do you love most about being a chef instructor?
The student body and student culture. I also love taking someone who's very green at something and teaching them how to do these things, having them try something (sometimes over and over again) and then succeed, that is total satisfaction to me.
What is your favorite class to teach?
I like teaching the 101/102 class because they're green. They're the new ones coming in and it's exciting for me. To be able to capture them within those first few minutes so they don't just think they're sitting in the classroom for the first week, and really kind of hyping them up and getting to know them. I love the green ones.
In your opinion, what can a student gain from going to Culinary Arts school in Michigan?
They're going to gain a lot of different things. Obviously first and foremost, you have to have a passion for it – I can't teach them that. That's something that they have to come in with. I think that once they go through the culinary program they do gain a lot of confidence in themselves, they gain speed, and they gain knowledge, and they gain a sense of accomplishment.
What advice would you give to someone who wants to pursue a career in the Culinary Arts?
Be ready for a rollercoaster. It is one of the most interesting careers in the world because you can take this and go anywhere in the world and potentially get a job with it. It's challenging, there are a lot of hours involved. There are holidays you're going to miss; you're going to miss functions and birthdays and recitals – Especially if you have a family and children but I always tell my kids "I'm always coming home."
Food is dynamic and people eat all the time, so if you can make it a little bit better or a little more interesting for the average consumer, then you've really done a good job.
Chef Tarnavsky is just one of our many talented and caring chef instructors. If a career in the culinary industry sounds like it may be the path you, Dorsey Culinary Academy may be the right way to help you get started. Learn more today!