Chef John Piazza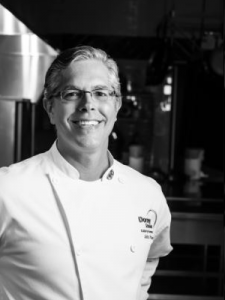 Certified Executive Chef ®
Culinary Arts Program Director
A.O.S. Culinary Arts
Joined Dorsey Culinary Academy in 2008
Q&A with Chef Piazza
Have you always wanted to pursue a career in the Culinary Arts?
I've wanted to pursue a career in culinary arts since 11th grade.
What was the driving force for you to go into the Culinary Arts? What made you decide to work with food?
I started as a dishwasher (it was my first job) and I fell in love with what was happening on the other side of the kitchen. I had chef there that took me under his wing and started training me because I was a hard worker. I started prepping the food and working the line, and I got great satisfaction from being able to do that.
What is your favorite kitchen equipment or gadget?
Right now, it's a suvee circulator. It's a circulator that goes into a water bath and it will hold that water (5 gallons circulating in a tub) at a specific temperature. So I could cook a steak in it and it'll bring the meat up to temperature, just like if you were cooking it on a grill. But with a circulator, it does it so slowly that the meat becomes tender without shrinking or browning. They don't really use them in restaurants yet because the health department is still trying to figure them out, but I practice a lot at home. I'm really loving that piece of equipment right now.
What are your favorite foods to make or ingredients to cook with?
I love anything Italian. My next favorites are braising and stews. I love them because they're combination cooking methods, and all the flavors stay within the vessel. All the juices from the meat and vegetables stay together. And the you get to eat all that and it's always rich and good.
What do you love most about being a chef instructor?
When a student gets it and there's change that happens – real, long-term change. When a student puts themselves in your hands, you make the assumption that they trust you, and then you guide them along (not knowing exactly if the student is getting it or not, yet), when you see the moment when it clicks for them – that's the best part.
In your opinion, what can a student gain from going to Culinary Arts school in Michigan?
Students gain the ability to practice the skills that are necessary to be successful in the industry. Trying to work and train in the industry to get all the skills that you need, can take years and years to accomplish. In our one-year program, we cover what would take you 5+ years to learn out in the industry.
Joining a culinary school also gets students involved with one of the second most important things in our industry (besides having the cooking skills): networking. You have to be able to talk to people, network yourself and get out in the industry. Culinary school taps you into that, you don't have to just walk up as a stranger.
In addition, going to a school shows anybody out in the industry that you're serious about pursuing a career in culinary. You're putting some skin in the game, not just looking for a job. Preferential hire will always be someone that's in, or just graduated from culinary school.
What advice would you give to someone who wants to pursue a career in the Culinary Arts?
Work at it. You have to take the time to learn the skills and build your foundation.
Take the time to enjoy it. You're feeding people, and that's really awesome. You're making people happy with your food. That's what drives me.
Treat people with respect. Really good chefs know how to talk to people and work well with others. Imagine in a kitchen with 30 employees, if they don't like you, they won't produce good food for you. As a chef running the kitchen, you have to be able to rely on your team.
Chef Piazza leads our talented team of Chef Instructors here at Dorsey Culinary Academy. Are you ready to learn more about how Dorsey Culinary Academy can help you train for a new career in the culinary field? Request Info today!