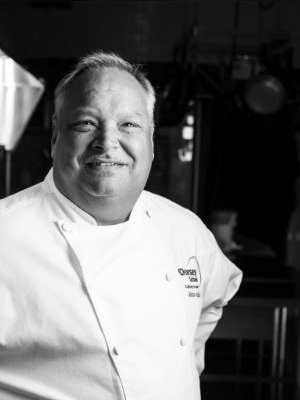 Certified Executive Chef ®
Chef Instructor
American Culinary Federation Apprenticeship A.A.S. Culinary Arts
Joined Dorsey Culinary Academy in 2008
Q&A with Chef Adamski
Have you always wanted to pursue a career in the Culinary Arts?

I guess I sort of just fell into it – it's all I've ever done. I started working in a restaurant when I was 14, so that kind of set the tone for my life.

What was the driving force for you to go into the Culinary Arts? What made you decide to work with food?

Once I started working in a good restaurant, I realized what it was all about. I guess you could say that the driving force was cooking and being an excellent cook.

After having some experience in the field, is it what you expected it to be like?

Well, looking back on it now it was a lot more dedication and sacrifice than I thought it would be. It's completely worth it though.

Was there a favorite or least favorite part during your training?

The comradery I experienced with my fellow culinarians was probably the best part because we're still all brothers and sisters to this day. The worsts parts were receiving correction and getting yelled at when I was an apprentice.

What is your favorite kitchen equipment or gadget?

I think my knives are my most valuable tools. I have an assorted set that I've gained over the years. They're the most important to me and the things that I'm most comfortable with.

What are your favorite foods to make or ingredients to cook with?

I like simple home cooking, although I do cook very fancy too. My favorite things to make are just simple dishes like potpie, pot-roast, broccoli soup, chicken noodle soup, things like that.

What is your favorite class to teach?

I like teaching hors d'oeuvres and roasted meats – those are both part of the curriculum we teach here.

In your opinion, what can a student gain from going to Culinary Arts school in Michigan?

They can gain the foundation that they need before they get out in the industry. It provides them with a solid ground to grow on. A lot of people don't get that foundation and they end up taking shortcuts in their career leading them to be under skilled and underpaid.

What advice would you give to someone who wants to pursue a career in the Culinary Arts?

Definitely get an education and work while you go to school. Work at top-notch places and find mentors that you can learn from as much as you can.
If a career in the culinary industry sounds like it may be the path you, Dorsey Culinary Academy may be the right way to help you get started. Contact us today to learn more!