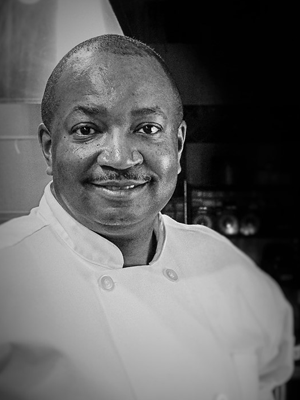 <pclass="card-title"> Chef Instructor
A.O.S. Culinary Arts
M.B.A.
Joined Dorsey Culinary Academy in 2009
Q&A with Chef Devine
Have you always wanted to pursue a career in the Culinary Arts?

No I didn't. I wanted to pursue a career in music at first. Culinary Arts just kind of came along. Music is still one of my passions but I don't really play [piano] anymore.

What was the driving force for you to go into the Culinary Arts? What made you decide to work with food?

I had to pay for my music lessons, which led to me getting a job in a restaurant. Next thing I knew I'd fallen in love with what I was doing. I got promoted and kept working in it.

Although it wasn't originally your plan, how do you feel about it now that you are working in culinary arts?

I love what I do and I'm very passionate about it – I learn just as much as I teach.

What is your Culinary Arts background?

I went to CIA [Culinary Institute of America] in New York, it's considered to be one of the best cooking schools in the world. After that I worked under 3 certified Master Chefs and 2 certified Master Pastry Chefs.

What is your favorite kitchen equipment or gadget?

I love the blender. You can always emulsify things, blend things together and make something that wouldn't ordinarily go together.

How is being a chef different from being a chef instructor?

I really don't think it's any difference. As a chef you're constantly teaching your staff and you're constantly growing. As an instructor you're constantly reinventing yourself. You have to constantly stay on top of the trends. So I guess the only real difference depends on the individual.

What do you love most about being a chef instructor?

I love watching my students grow and letting them see things that they have never seen or experienced before. Exposing them to different foods and cultures is my favorite thing.

What is your favorite class to teach?

I like all of them because I think each one of them brings something totally different. I like the beginner's classes because its where I can set a foundation and the standard for them to carry on. I like the advanced classes because you get to be a little more creative. So I can't just pick one.

In your opinion, what can a student gain from going to Culinary Arts school in Michigan?

A student can gain discipline, respect, organization, knowledge; there's so much to learn and understand – not just about recipes but about culture and history and chemistry (especially when it comes to baking).

What advice would you give to someone who wants to pursue a career in the Culinary Arts?

Make sure that this is something that you want to do. This is not your typical 9 to 5 job. It never stops, it's never a dull moment. You've got to be willing to stand and work. If you have good food and you're a good chef, you'll constantly be busy. It's a lot of things you need to take into consideration: A lot of people like to go to restaurants on weekends, so if you're the type of person that likes to hangout, maybe this is not the type of field for you.
Chef Darnell Devine is just one of our many talented and caring chef instructors at Dorsey Culinary Academy. If training for a career in the culinary industry sounds like it may be the path you, Dorsey Culinary Academy may be the right way to help you get started. Learn more today!