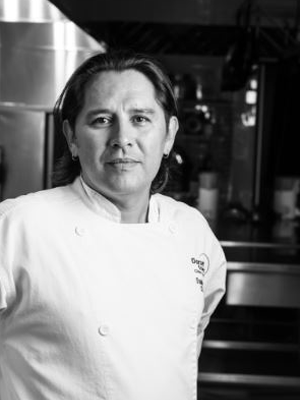 Certified Executive Chef ® Certified Executive Pastry Chef ®
Chef Instructor
A.A.S. Culinary Arts
Joined Dorsey Culinary Academy in 2011
Q&A with Chef Martinez
Have you always wanted to pursue a career in the Culinary Arts?

I have. Ever since I can remember I've always wanted to be a chef.

What was the driving force for you to go into the Culinary Arts? What made you decide to work with food?

When I was younger I used to watch a lot of the culinary programs on PBS and I used to think that it was very cool because they would make things that I'd never had before. I grew up in a Mexican household where we ate beans, rice and tortillas every day: breakfast lunch and dinner. Seeing all of the other types of foods out there really inspired me to look into a career in cooking.

Can you tell me a little bit about your Culinary Arts background?

I began cooking when I was very young. I was cooking in a camp kitchen at 14 and then eagerly pursuing jobs in the best restaurants all throughout high school. I was working at places like The Rhino and The London Chophouse and then I was eventually recruited to go to the Jefferson Hotel in D.C. so I've had a lot of experience.

Can you tell me about your training?

I had very classic training – starting at the bottom of the kitchen, washing dishes and then moving from station to station going from pantry as an apprentice, and then learning all the basics.

Was there a favorite or least favorite part of your training?

No. I think I enjoyed all of it. I enjoyed washing dishes as much as I liked cooking. To me the work was work. I wasn't discouraged by the type of work so much that I just enjoyed being in the environment of the kitchen. I just like the way the kitchen works.

What is your favorite kitchen equipment or gadget?

French knife. I'm very comfortable with knives. I use it for everything. I'll find myself cutting things up with a knife (even if it's mincing) almost as fast as I can do it with some of the food processors and things. Not always, but I'd almost rather do it by hand and save the step of having to wash all the equipment. Sometimes in the time it takes to set up the equipment and clean it afterwards, I could've finished it with my knife.

What are your favorite foods to make or ingredients to cook with?

Eggs. Any kind or eggs: omelets, over easy, scrambled, soufflés. I just like eggs. It's my go to because it's so easy for me. I can make a tasty omelet with goat's cheese at home and not trash the kitchen and still be happy with my meal.

How would someone determine if they should become a pastry chef or savory chef?

I find that a lot of people want to go into pastry for different reasons: some people just love sweets; some people prefer the hours. Pastry chefs tend to work early instead of late, whereas savory chefs tend to work later (the dinner shift). I really went into pastry because I liked managing the entire kitchen so eventually I just found that I wanted to be very well rounded and to be able to do everything.

What advice would you give to someone who wants to pursue a career in the Culinary Arts?

Inevitably, finance and business management will be the keys to your success. Whether you're a good cook or not, doesn't always make you successful in this industry. Having the ability to oversee staff and manage people and finances can be tricky. Restaurants fail all the time, and its usually from the management side of things. It doesn't have very much to do with how good of a cook you are.
If training for a career in the culinary industry sounds like it may be the path you, Dorsey Culinary Academy may be the right way to help you get started. Contact us today to learn more!